The softest skin in the world should have the best care. See how Pipette provides safe care to your little ones. 
Safe Skincare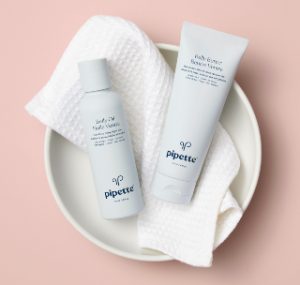 Pipette was created to give parents a solution that actually works for their babies' sensitive skin, without compromising on safety or sustainability. Pipette believes biotechnology has the power to change the world. That's why each one of their scientists devote their energy to creating effective, safe skincare that doesn't harm the environment or animals — because our babies and our earth deserves better.
Say Hello to Squalane
One of Pipette's  best achievements, and what's made their skincare so effective, is a sustainable version of what's considered biology's best moisturizer.
Squalene is a moisturizing superhero that all babies are born with. Their expert scientists created a replica of squalene, called squalane, that's derived from renewable sugarcane and is super-safe for their delicate skin.
You know this already—just one touch of that insanely soft little cheek proves that baby skin is the softest skin imaginable. But that sweet skin is also particularly vulnerable: infant skin is thinner and loses water much faster than adult skin.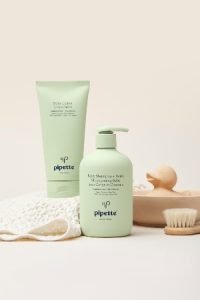 When babies are born, their skin is coated with a creamy substance called the vernix, which provides powerful natural protection for newborns in the first few hours after birth. The vernix is rich with ultra-hydrating molecule squalene, and has a nourishing, waterproofing effect on baby's skin. 
That squalene is your baby's built-in moisturizer, and is key to keeping skin safe. But after the protective vernix absorbs, your baby's skin needs a little extra love and care. That's where squalane comes in and keeps their skin protected and clean. And it goes beyond the little ones too! 
Safe for Them, and the Environment
Everything Pipette does is to enrich the lives of our kids and our planet. They started by blacklisting over 2,000 potentially harmful ingredients from our formulas. Once they kicked out all the bad stuff, Pipette used their rigorously tested clean ingredients to create scientifically backed, nurturing, extra-pure formulas—no fluff, no fillers, no confusion.
Shop Pipette on Skinstore.com!