On September 18th every year, Americas favorite sandwich is honored. With lashings of cheese, ketchup and a seeded bun….it's National Cheeseburger Day!
We have already shared a cheese-related recipe earlier this week, in which we featured a twist on the family favorite pie and the nations favorite burger: Skinny Cheeseburger Pie. As this seems to have gone down a treat, we have decided to celebrate this national day with yet another tasty recipe, this time from Skinny Kitchen.
You may be able to see what we are trying to do here. That's right – we are trying to bring you the delights of the fat-ridden cheeseburger, but in a healthier dish!
So ditch that bread, rustle through those lettuce leaves and dig out the low-fat cheese. Nancy Fox from Skinny Kitchen shares with us how to make a Skinny Cheeseburger Salad…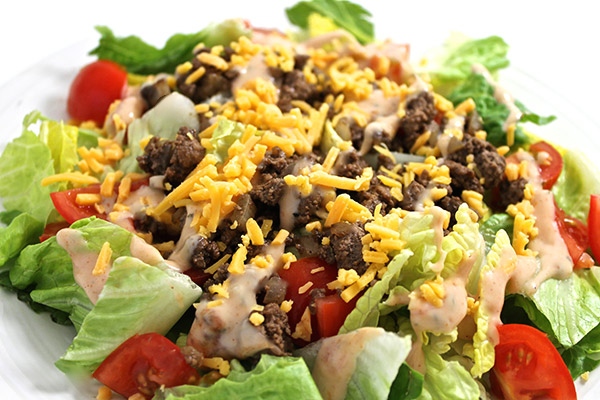 Skinny Cheeseburger Salad
Nancy at Skinny Kitchen puts a unique spin on the much-loved Cheeseburger recipe with this healthier Cheeseburger Salad. It's tasty, fun and flavorsome. Oh and course, a much more guilt-free delight...
Servings

6
Ingredients
1cup - Thousand Island Sauce Light
1pound - extra lean ground beef(for the burger crumble)
1cup - yellow chopped peppers(for the burger crumble)
3tbsp - Worcestershire sauce(for the burger crumble)
1sprinkle - of salt(for the burger crumble)
1sprinkle - of fresh ground pepper(for the burger crumble)
24cups - romaine lettuce (each main meal uses 4 cups)(for the salad)
1cup - reduced fat cheddar cheese(for the salad)
3cups - chopped tomatoes(for the salad)
Nutritional Facts
Amount per serving
| | | |
| --- | --- | --- |
| Calories | 242kcal | 81 Calories from Fat |
| | | |
| --- | --- | --- |
| | | % Daily Value * |
| Total Fat | 9g | 14% |
| Sodium | 704mg | 29% |
| Total Carbohydrates | 20g | 7% |
| Dietary Fiber | 5g | 20% |
| Sugar | 3g | - |
| Protein | 25g | 50% |
Instructions
To make burger crumble: In a large, nonstick pan add ground beef and onions. Brown over medium-high heat, about 5 minutes. Stir often, breaking up beef, into a crumble. Once browned, pour into a colander in the sink to drain any fat.

Add browned beef back to pan. Stir in Worcestershire sauce, seasoning salt, and pepper. Reduce heat to low and simmer for 5 minutes. Stir often

To make one salad: Line a dinner plate with 4 cups lettuce. Top lettuce with ½ cup warm burger crumble. Sprinkle with ½ cup tomatoes (drained). Drizzle 2 tablespoons Thousand Island dressing over salad. Top with 2 tablespoons cheese.

You don't have to make all 6 salads at once. Pack the burger crumble in individual containers and freeze for more salads in the future.
Enjoy this salad with a difference!