Belli® is Picky for a Purpose™ to give you peace of mind. Their products are allergy tested, free of artificial dyes or fragrances, phthalates and paraben preservatives. Belli® delivers trusted skin care solutions that pamper and protect without known harmful chemicals. The ingredients in Belli products are selected based upon an extensive review of published medical studies. Every Belli product is allergy tested, free of artificial dyes or fragrances, phthalates and paraben preservatives.
OB/GYN and Dermatologist Recommended - Allergy Tested - NO Artificial Dyes or Fragrances, Phthalates, or Paraben Preservatives - Cruelty Free; Not Tested on Animals - Made in the USA
Belli even follows a unique safety screening process to avoid ingredients with known links to birth defects or harmful effects while breastfeeding. Expect Beautiful Skin. Enjoy Peace of Mind.™
In addition to the lineup of skin care products for pregnancy, Belli Skin Care also carries a motherhood collection to help women deal with the changes that occur to the complexion in the postpartum period. These formulas are clinically tested to ensure that their ingredients do not enter breast milk, ensuring they are safe for those who choose to nurse. Completing the Belli Skin Care collection is the lineup of natural, irritant-free formulas for caring for babies' delicate skin.
At Belli, protecting expectant and new mothers and helping them to look their bests is always the top priority. The company is dedicated to producing only safe, effective formulas that can be used without fear of what they contain. When creating new products, the scientists at Belli consult all of the known literature regarding ingredients that are potentially harmful to developing babies and breastfeeding infants. Even ingredients with only a slight risk are left out of the formulas in order to make them as gentle and safe as possible. In addition, all of the products are allergy tested, ensuring that they are free of common irritants.
The Belli skincare collection contains solutions for all of the common issues that can develop during and after pregnancy. Many women experience acne breakouts and skin discoloration during pregnancy due to changes in hormone levels. Belli offers a number of formulas that safely address blemishes and melasma without subjecting babies and their mothers to potential toxins. For stretch marks, the brand has a variety of topical solutions available, and you'll also find products for dry skin, dullness, nursing-related nipple discomfort and dark circles that develop after midnight feedings in the skin care collection.
Developed under the supervision of OB-GYNs, the Belli skincare range can help you to care for your skin during pregnancy and beyond. The products in the collection are a great way to promote a more beautiful you and also make wonderful gifts for baby showers and for new mothers.
Finding the right products to take care of your skin can be challenging in the most ideal of circumstances. Women often find that their skincare needs change dramatically when they become pregnant. Belli Skin Care Products make up the first skincare line that offers formulas developed cooperatively by doctors and mothers to address women's special needs. These products offer top-quality skincare using products that are safe for mothers and babies. Belli Skin Care Products incorporate benefits of armoatherapy, massage therapy, natural ingredients, and scientific research to offer premium care to expectant mothers, new moms, and babies.
There are three different lines of Belli Skin Care Products, offering moms a broad selection. OB/GYNs and pediatricians recommend Belli Pregnancy, Belli Motherhood, and Belli Baby formulas. These products have been developed carefully to offer delicate and healthy care without sacrificing results. It can be difficult to feel beautiful during pregnancy, but this skincare line gives women the tools to feel relaxed, pampered, and confident. By incorporating Belli Skin Care products into your skincare routine, you can refresh and revitalize your skin with formulas that are tailored specifically for your needs.
Most skincare products are designed for women's skin, but very few are formulated for pregnant women and new moms. Belli Skin Care Products give mothers the opportunity to pamper themselves and to maintain beautiful skin during a time when stress and hormonal changes can often cause issues. This line of products also offers solutions for new babies, making sure that skin stays healthy and soft.
Having a baby is an amazing experience, but pregnancy can cause your body to experience unwanted changes. The development of stretch marks is one of the biggest complaints from new mothers. Belli Elasticity Belly Oil gives expectant mothers some control over how their body looks. Using medically researched ingredients and soothing aromas of lavender and sweet almond oil, this product pampers your body and mood. This nourishing formula minimizes stretch marks by helping your skin to stretch without experiencing any damage.
One of the lesser known side effects of pregnancy is the development of dark brown blotches on your skin, known as chloasma. Though stretch marks get more public coverage, approximately 70 percent of pregnant women develop these splotches. Belli Anti-Chloasma Facial Sunscreen SPF 25 works to protect your skin against chloasma using sunscreen ingredients that are safe to use during pregnancy. This formula will protect your skin from sun damage as well as safeguard your complexion from environmental pollutants. You can wear this product underneath makeup. It is oil free and can be used on any skin type.
Pregnancy floods your body with different hormones, often causing an increase in breakouts. Belli Acne Cleansing Facial Wash is the first cleanser that safely addresses pregnancy-related acne. This acne cleanser gently exfoliates skin, leaving you with a soft and glowing complexion.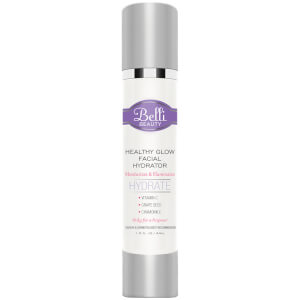 Belli Beauty Healthy Glow Facial Hydrator