Created by celebrity makeup artist, Bethany Karlyn, PRTTY PEAUSHUN Skin Tight Body Lotion contains subtle light reflecting particles in a 100% natural emollient base that give the skin a gorgeous, flattering glow. Its radiance conceals minor imperfections and enhances definition to create a sexy, slimmer silhouette. Infused with an innovative blend of natural plant extracts, PRTTY PEAUSHUN lifts, firms, tightens and diminishes the appearance of cellulite, stretch marks and varicose veins, while also minimizing bruising and sore muscles.
Homemade concoction turned hit beauty product
L.A. makeup artist Bethany Karlyn's routine was to create a special concoction before every photo shoot. She made it in her kitchen in the evenings and took it to the set the next day. She would apply it to the faces and bodies of celebrities and models. Their reactions? They all loved it! It was a friend, Tracy Anderson, who encouraged her to sell this concoction to the public. That was when PRTTY PEAUSHUN (pretty potion) was born.
Make your skin PRTTY - naturally
PRTTY PEAUSHUN Skin Tight Body Lotion is a mixture of all-natural ingredients that soothe and heal the skin. It's infused with natural plant extracts and contains no parabens or other toxic ingredients. It's also anti-cruelty and gluten free. Not only does it look good, but it's good for your skin as well.
PRTTY PEAUSHUN's emollient base contains small light-reflecting particles that flatter skin. The plant extracts cover up imperfections such as bruises, varicose veins, stretch marks and cellulite. The result is a slim and flattering silhouette.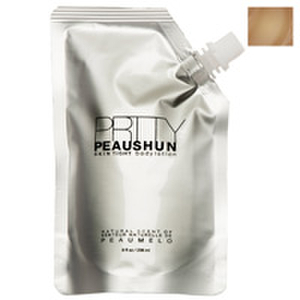 Prtty Peaushun - Dark 8oz
Select a FREE gift when you spend $120 or more
Sample selection will be available in the cart. While stocks last.
SHOP NOW