At Tammy Fender, they are committed to helping clients experience beauty and wellness that radiates from within. Their 100% natural formulas are crafted to enrich, purify and protect skin. The results are deeply healing, ultra-nourishing, all-natural blends that work on the cellular level to bring skin into perfect balance. Every product in this collection reflects passion for the ancient tradition of holistic medicine, and each is designed to promote wellness not only on physical plane, but also on the emotional and spiritual levels, taking into account the person as a whole. When using these carefully crafted, purely refined products, the natural outcome of finding true balance is healthy, glowing skin!
The flowers and plants used to create the formulas are organic, food-grade ingredients that are simply bursting with Pure Living Energy®, the life force that emanates throughout nature and permeates our being. Tammy Fender recognizes that the skin is the largest living organ, and that what we put onto our skin is just as important as the food we eat in restoring the body's harmony and vitality, and in allowing the "chi" energy that connects us to all living things to flow.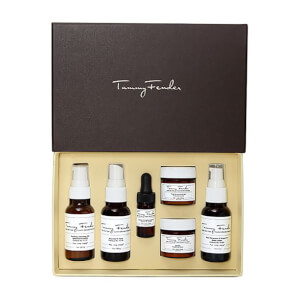 Tammy Fender Oily/Overactive Treatment Kit
FREE gift on orders over $120
Gift selection will be available in the cart. See cart for more details.
SHOP NOW