SOON Skincare is a brand co-founded by two best friends who are working to bring the love and innovation of Korean Skincare to everyone through their unique masks, serums and more. SOON designs high-quality products that upgrade the user experience and are committed to helping you achieve your best skin yet. SOON Skincare products are packed with the highest quality ingredients designed to fit your unique contours perfectly. Free from sulfates, parabens, and phthalates, the brand's products contain antioxidant-rich botanicals, niacinamide, and caffeine to correct skin conditions while providing a true pampering experience.
In honor of Asian American Pacific Islander (AAPI) Heritage Month, we sat down with SOON Skincare's Co-Founder, Lisa Ballstaedt, to discuss the brand's mission, The Mermaid Collagen Serum and more.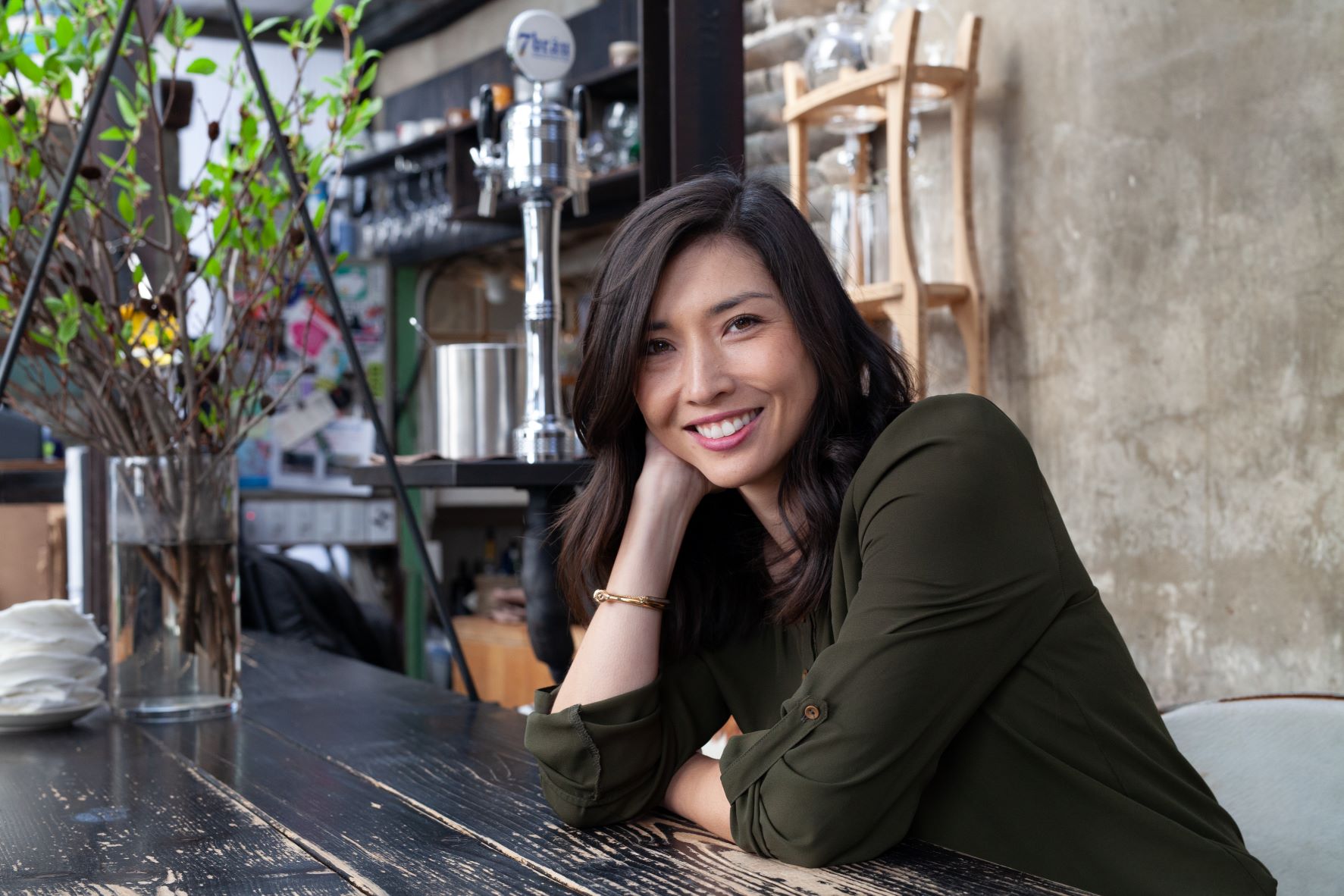 Question:

What is your mission with Soon Skincare? Has it evolved since you co-founded the brand?

Answer:

Our mission with Soon Skincare has always been to create effective products with high quality ingredients and bring the best parts of Korean skincare to women everywhere. That has remained a constant, but in listening to our customers, we have become more aware of how the products will best fit into their lives and we take that into consideration as we create them.

Question:

What inspired you to start the brand? What inspires you now?

Answer:

Soon was my business partner/best friend Kayla's brilliant idea. She knew Korean skincare was incredible but wanted to find a way to make it work with the busy lifestyles we all lead. So, we teamed up, took so many trips to Korea, and did just that! 

I'm constantly inspired, but nothing inspires me more than a woman's ability to get things done. The women in my circle are talented, creative, hard-working forces of nature and I'm always amazed how they are able to accomplish so much. Seeing them succeed in their respective worlds inspires me to do the same in mine.

Question:

Soon takes major inspiration from Korean skin care; which pieces or philosophies of Korean Beauty do you admire and draw inspiration from?

Answer:

One of my favorite things about Korean skincare is the focus on getting your best, and healthiest skin. It's not about quick fixes, it is about consistently prioritizing your skin (and therefore yourself), so you yield long-term results. My Korean grandma, who we named Soon after, always took care of her skin, stayed out of the sun, and I can't remember a time she didn't ask for skin care as a gift. It paid off though because she had beautiful skin. I think all the time about how much she would have loved knowing we named our company after her. Soon in Korean means "smooth and pure" and it is a perfect tribute to her.

Question:

How has your experience as a female entrepreneur, specifically as a member of the Asian American community, in the beauty industry shaped the brand and its products?

Answer:

Representation is so important not only in the beauty industry, but in life. No one knows what products a woman needs more than a woman, which is why it is so ironic that the amount of beauty companies with women at the helm are such a small percentage of the industry. The same thing goes with being a member of the Asian American community, we make up a decent size of the population, and our needs for skin care are sometimes different than that of other races. We always make sure to test our products on people of all different kinds of skin types because we want to make products that are going to work for everyone. Everyone has a different type of skin, and different things that will work for them, and for us that has always been a guiding factor as we develop products.  

Question:

What was the first mask you developed? Was it important to start the brand with that product?

Answer:

Kayla and I launched soon with 5 different face masks, two eye masks and two lip masks. We wanted to share our enhanced versions of the best Korean skin care products we found during our extensive research phase. I can't even tell you how many different masks we tried, and then we worked with our incredible manufacturing teams to make the best possible versions of those products.

Question:

As far as a regimen goes, what are some Soon Skincare products that have a permanent home in your routine?

Answer:

I use pretty much all of our products on a very regular basis. Our goal was to create products that we need and would use, and the fact that they are all in my routine makes me feel like we accomplished that. The Mermaid Collagen Serum is something I can't live without. I use it morning and night. Also, our SPF products are a must, not only because SPF is so important but because they are effective, and don't feel like a heavy formula on your face. Also, the eye masks are perfect for when you want to look well rested, but definitely aren't. I always give them as gifts at baby showers, because every new mom needs them in her arsenal after long sleepless nights.  

Oh, also our Acne Patches are the best on the market. I wish I still didn't need them sometimes, but I'm glad to have them when I do! 

Question:

Soon's Mermaid Collagen Serum is a standout product—and for good reason. What makes that product's formulation so special?

Answer:

The Mermaid Collagen Serum is for sure one of the products we are most proud of. The chemist we developed this with is incredible and we went back and forth with him for countless rounds of sampling to get this serum just right. We packed it full of incredible ingredients. The formula is 47% Marine Collagen, which is the only form of collagen that can effectively penetrate the skin. It also has a lot of soothing and hydrating ingredients to help that not only help diminish the appearance of fine lines and wrinkles, but it helps with pore size and leaves skin with a really beautiful, healthy glow. It took us a couple of years to get this product just right, and we are so proud of how it turned out. It's probably the product that people ask me about most frequently, and then that they later follow up with how much they now can't live without it.  

Question:

How do you stay ahead of the curve in developing products to meet the needs of your customers? And what's next for the brand?

Answer:

Over the years, my business partner Kayla has head up our product development, and she has an incredible way of knowing what our customers want and will need. She also is always researching different ingredients and delivery systems to make sure we are utilizing the best that the Korean skin care industry has to offer. Korea is always at the forefront of the skin care industry, especially when it comes to innovation, and we are lucky to be able to be a part of that.

We also pay close attention to our product reviews and the customer service inquiries we get. We have made various adjustments to products based on that feedback.

Question:

Are there any industry trends that have piqued your interest lately? If so, why?

Answer:

An industry trend that I've been happy about is that now with social media, I feel like people are much more conscious about the companies that they choose to support. There has been so much support over the past few years for female-founded brands, for minority-owned brands, for eco-friendly brands, etc. and I think that is amazing. The information for who you are choosing to spend your money with is so much more readily available now, and one of the most impactful things you can do is be selective about where you spend your money. 

Question:

What's your definition of beauty?

Answer:

To me there is nothing more beautiful than a person who is completely confident in who they are. 

Question:

What is your focus for your brand for 2022?

Answer:

Our focus for Soon Skincare is to always create effective products that will make a difference for our customers. The fact that we love them and then get to add them to our own regimens is the best kind of added bonus.  

Question:

What does it mean to you to be an AAPI female co-founder and entrepreneur?

Answer:

For me it's all about representation. I hope that is shows other AAPI women and girls that people just like them are in positions where they are creating things and are able to make a difference, and hopefully inspires them to do the same.  

Question:

As we know, it's AAPI Heritage Month; in what ways can the beauty industry as a community show up for AAPI businesses?

Answer:

The best way any of us can show up for AAPI businesses is to support them in your own way. That can be by purchasing products, leaving reviews, sharing or engaging with social media posts, collaborating with other AAPI businesses, gifting products to friends, signing up for email lists, there are so many different ways to support a business, and some of them don't cost a single cent.