U Beauty is redefining simple yet luxurious skin care. Multifunctional products allow their users to receive the benefits of a twenty-step routine without the laundry-list of products—leaving your skin smooth and radiant. The brand's patent-pending SIREN Capsule technology works to target free radicals directly and is at the heart of its innovation.
In honor of Asian American Pacific Islander (AAPI) Heritage Month, we sat down with U Beauty's Founder, Tina Craig, to discuss the brand's ethos, its innovative SIREN technology and more.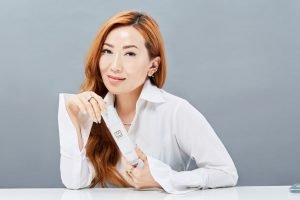 Question:

Can you tell us about U Beauty's start and why you decided to create the brand?

Answer:

I wanted a simple yet powerful skincare routine that provided real results without irritation–and without taking up too much time and energy. It just didn't exist yet. I knew if I felt like this, other people did, too. I began asking the brands I'd been working with for years: "How do I create a great science-proven, results-oriented product that could replace at least half the products I'm using?" Everyone told me I couldn't until one evening, I ended up by chance at a dinner with a longtime friend, and now partner, who was feeling the same frustrations. Katie Borghese had also been developing skincare lines for others for 20 years, and she told me she partners with a clinical-grade lab in Italy known for innovative technology. Our products are always founded on innovation, advanced technology, proven science, and my own selfish need for something that doesn't exist yet! My motivation starts with seeing an issue and seeking to resolve it simply so you can ultimately use less and buy less, while getting the most dramatic results, without irritation.

Question:

What sets U Beauty apart from other luxury skin care brands?

Answer:

Our double-patent-pending SIREN Capsule Technology is the only innovation in the beauty industry that's strictly activated in the presence of free radicals. Developed at our medical-grade lab in Italy, you won't see this delivery system in any other skincare, and it's the reason products that I'd only dreamed of before are now on the market.

Question:

How has your experience as a female entrepreneur, specifically as a member of the Asian American community, in the beauty industry shaped the brand and its products?

Answer:

As a woman and as an Asian American woman, I've always had to speak up, refuse to take no for an answer, and proclaim I'm not going anywhere in order to position myself as a force in the industry. My perspective has driven me to create products that other people had told me were impossible–because I'm used to proving myself and proving that the impossible can be accomplished. It also shaped the brand ethos: U Beauty is named after you, and its inclusive skincare made for every race, gender, age, and skin type.

Question:

Can you tell us more about SIREN capsule technology and the way it's shaped your brand?

Answer:

It's a patented delivery system that enables powerful ingredients to go exactly where your skin needs them–and nowhere it doesn't. Unlike most skincare that releases actives all over the skin, SIRENS lures damage-causing free radicals to it like a magnet. By attracting only the compromised cells, healthy cells are preserved, while damaged areas are treated. That's why you won't experience the risk of irritation and you'll see results, quicker and more effectively.

Question:

Is there one U Beauty product that is your forever must-have? If so, why?

Answer:

I honestly wouldn't want to live without any products in the U Beauty suite–that's why I created them. But our first product, the Resurfacing Compound, will always be my OG favorite. Nothing gives you glowy, glass-like skin, faster and better.

Question:

How do you stay ahead of the curve in developing products to meet the needs of your customers?

Answer:

I focus on what I want, first and foremost! In all seriousness, if it's a product I'm dreaming of that doesn't exist yet, I've found that others are dreaming of it, too. They might not even know it yet. When you're technology-focused and sustainability-minded, products and their benefits are intrinsically ahead of the curve. 

Question:

What's next for the brand?

Answer:

You'll have to wait and see! We have a major new product officially launching tomorrow: The SUPER Body is a radical rethinking of body care, delivering sumptuous, sustained hydration and groundbreaking benefits. It's unlike anything on the market.

Question:

What ways can the beauty industry as a community show up for AAPI businesses during AAPI Heritage Month and beyond?

Answer:

I would love to see companies use their platforms to allow more Asian Americans to share their stories. Founders, CEOs, creative directors, and those in top positions should all recognize they have both the voice and opportunity to speak up and be vocal. The industry should be initiating dialogues to catalyze change. They can also be proactive about driving diversity, both from a front-facing perspective and internally. Members of the industry need to look at the diversity among their employees and if it's skewed, work on it.