See how Virtue Labs is unlike other hair-care brands, and it's launch on SkinStore!
About the Brand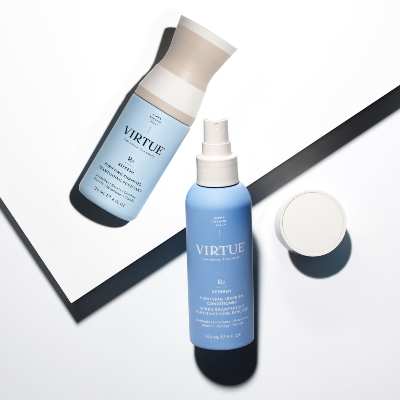 Six years ago, Virtue Labs came across something extraordinary. A group of bio-scientists have found an entirely new way to collect Keratin in its pure form. This incredible protein is what makes up 90% of our hair, skin and nails. They had discovered Alpha Keratin 60ku.
What's exciting about Alpha Keratin 60ku is that our bodies recognize it as our own, and that makes it really powerful. It's pulled to where it's needed, strand by strand, smoothing, resurfacing and filling in cracks of damage.
The Science of Alpha Keratin 60ku
Here's a few of the benefits Keratin 60ku brings to the hair after using Virtue Lab's product line.
67% Reduction In Frizz
Hair In Vivo Under Real World Conditions Before And After 4 Applications. Hair Is Dramatically Smoother, More Composed, And 67% Less Frizzy.
Image
95% Split End Reparation
A Single Split Hair Before And After 5 Applications. The Hair Is Made Whole Again, Achieving A 95% Reparation.
Image
22% Increase In Thickness
A Single Strand, Magnified 860x, After 1 Application. Moisture Levels Rise And Each Hair Grows Up To 22% Thicker.
Image
138% Increase In Color Vibrancy
A Single Hair Before And After 5 Applications. As The Hair Is Repaired, Color Is Restored And Vibrance Increases By Up To 138%.
Virtue Labs is free of sulfates, parabens, phthalates, synthetic colors and dyes. They're also gluten and cruelty free.