If you use a vitamin C serum to care for your skin, it's in your (and your skin's) best interest to take care of your product. Purchasing the proper product and storing it correctly once it's in your possession are key for optimal potency and maximum shelf life, and a clinically-proven antioxidant serum like SkinCeuticals' C E Ferulic is an investment in your skin's health and appearance. It's important to protect this investment in order to get the free-radical defense your skin needs and the visible anti-aging improvement you want, and as the leader in antioxidant science, SkinCeuticals shares how to make the most of your vitamin C serum.
There are several factors to consider when selecting a vitamin C antioxidant serum, including the formula, the packaging and where you purchase the product.
The formula: A number of scientific studies have proven the exact formulation parameters necessary to create a truly effective vitamin C serum that delivers on its claims. These include the form of vitamin C (L-ascorbic acid is pure vitamin C), concentration (10% to 20% is ideal) and a low pH (less than 3.5). You should also opt for a product that has been rigorously tested for effectiveness and safety. It's not easy (or inexpensive) to tick all of these boxes, which is why you should be wary of suspiciously low-priced products. When shopping for a vitamin C serum, this is one scenario when you do get what you pay for.
The packaging: Vitamin C is a powerful antioxidant, but its potency can be decreased by exposure to air and light. When selecting a serum, look for one that comes in an opaque, dark glass bottle to help minimize degradation caused by exposure to UV light.
The retailer: Counterfeit skincare is a major problem and buying a fake does more than waste your money. Using an unauthentic serum with unknown ingredients can cause skin reactions, including irritation and even infection.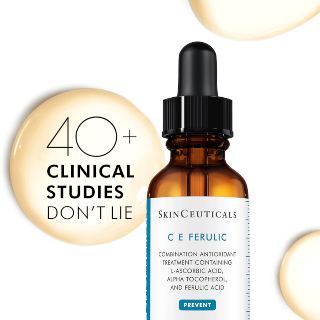 Now that you've purchased an antioxidant serum, you want it to be effective until the very last drop. Follow these tips to keep your vitamin C in tip-top shape so you can get the protection and results you're looking for.
Store it properly: It goes without saying that you need to close your serum bottle tightly after each use, and you should also find a cool, dry place to store it. This is especially important if you have a small bathroom that gets hot and steamy when you shower, so you may want to keep it in your kitchen refrigerator (as crazy as it may sound). If you have the room, consider getting a dedicated skincare micro-fridge for your vitamin C and other unstable products.
Use it every day: No product can help your skin if it stays in the bottle. SkinCeuticals recommends using a vitamin C serum within three months after it's opened—and if you apply the suggested four-to-five drops to the face, neck and chest every morning you should be right on schedule. After this point, it's likely that the serum won't be as effective—and you may notice a chance in its smell as well.
Don't judge based on color: Your serum may be clear or slightly yellow when you begin using it—and it's normal for the product to darken after opening due to air and light exposure when you apply it each morning. Regardless of color, your serum should maintain its potency as long as you use it within three months.
All SkinCeuticals products are formulated according to strict scientific guidelines and subjected to rigorous testing that prove they deliver on their claims. From there, it's up to you to make the right decisions before you buy—and take care of your serum properly in order to get the results you're looking for.