With their attention to detail and high quality ingredients, see why Aesop is one of our best-selling brands on SkinStore.
Who Is Aesop?
Aesop was founded by the hairdresser, Dennis Paphitis in Melbourne in 1987. His objective was to formulate a collection of skin, hair and body products of the finest quality using a high percentage of plant-based ingredients.
At Aesop, they're extremely passionate about what goes into each one of their products, with a huge emphasis on botanical extracts. They believe in making their products effective and high quality, so they'd don't shy away from using man-made ingredients in their formulas. As long as they are skin-friendly and provide incredible results, then Aesop will consider using them in their formulas.
All of Aesop's products are housed in incredibly luxurious glass bottles and their minimalist approach ensures they look striking in any bathroom. And their labels are no different, as a self-confessed bookworm, Dennis included some of his favorite book quotes on the labels of many of his product, giving them a truly unique touch.
Aesop's gorgeous collection of skin care products is their bestselling line. With a collection of cleansers, exfoliators, toners, treatments, masques, shaving products, moisturizers and more, you'd be hard-pressed to find a more extensive collection of skin care products.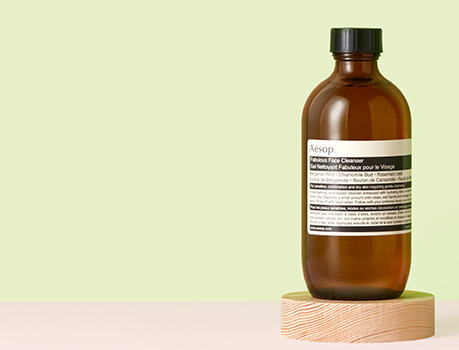 Aesop's Fabulous Face Cleanser has been meticulously formulated to purify and hydrate the skin without stripping it of essential oils and nutrients. The gel cleanser boasts a blend of Bergamot Rind, Chamomile Bud and Rosemary Leaf which expertly cleanse the skin, leaving behind a truly refreshing fragrance.