Discover the perfect Natural Skin Care Regimen as Beth Ann Catalana, (President & CEO of AHAVA) and Dana Miller, (Director of Marketing & PR) talk through the products available to buy at SkinStore.
The Natural Skin Care Regimen targets firming and lifting the skin, harnessing the powers of the Dead Sea, as all AHAVA products contain a proprietary blend of Dead Sea minerals. This cocktail of minerals not only restores skin's hydration, but also restores radiance.
Here's the perfect mix of six natural skin care products suggested by the brand.
1. Refreshing Cleansing Gel
Always start your skin care routine on a clean canvas, which is where the Refreshing Cleansing Gel comes in...
Begin your Natural Skin Care Regimen with the Refreshing Cleansing Gel - the soap-less gel cleanser which washes away all traces of dirt and make-up, leaving your skin prepped and hydrated.
This mineral-enriched will also effectively cleanse the skin without drying it out. Formulated with AHAVA's unique Osmoter complex, this mild cleanser will thoroughly take away unwanted impurities and leave skin feeling clean and refreshed.
2. Dead Sea Crystal Osmoter Facial Serum
Next, comes the famous serum - the Dead Sea Crystal Osmoter, a real powerhouse. This has six times the concentration to not only maximize hydration but also visibly improve wrinkles and the loss of firmness. In a clinical study, 95% of consumers tested saw a reduction in wrinkle depth and 90% saw increased firmness in just 28 days!
When focusing on firming and lifting, AHAVA's 'Extreme' line will give the best result. The natural skin care brand therefore started with exploring the Dead Sea when searching how to effectively treat the signs of aging, inspired by nature.
From climbing the highest peaks of the Himalayas, the brand discovered natural extracts that not only withstand the harsh environment but also thrive in it. The age-defying ingredients found in these two extreme altitudes have a significant impact on maintaining youthful and healthy skin in harsh environmental conditions. Together, they produce a powerful complex that defies aging by significantly reducing wrinkle depth, enhancing firmness, and restoring youthfulness.
3. Extreme Firming Eye Cream
Powered by AHAVA's Osmoter, the Extreme Firming Eye Cream helps reduce wrinkles, significantly firms the delicate skin around the eyes, and improves skin's elasticity, providing a glowing, youthful and more lifted appearance.
How to apply: Use your wedding ring finger to apply the Extreme Firming Eye Cream in gentle tapping motions around the eye, focusing on the orbital bone.
The skin under the eye is about 10 times thinner than the rest of your face so it is important to treat to with care.
4. Extreme Day Cream/Extreme Night Treatment
Now remember, you need different treatments for day and night because your skin functions differently.
AHAVA advise that during the day, your skin's function is defensive, protecting against environmental damage and stress. So, apply a pea-sized amount of the Extreme Day Cream every morning, gently massaging upwards since we are working to lift the skin.
At night, your skin turns to repair mode so it's the perfect time to make the most out of your beauty sleep with Extreme Night Treatment. Apply just one pump and gently massage upwards – this is perfect for applying all over the neck to help prevent wrinkles.
5. Mineral Hand Cream
Lastly, finish the Natural Skin Care Regimen with AHAVA's Mineral Hand Cream.
The extremely rich cream provides your hands with deep nourishment and hydration, instantly soothing chapped, dry surfaces and imparting healthy, satiny softness for increased comfort throughout the day.
Now you'll be ready for anything!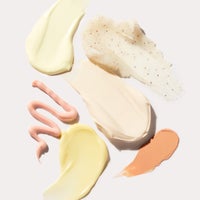 Our team of beauty experts cover everything from skincare to makeup, picking out the most effective products from the best brands and latest trends. Stay up to date on everything beauty with the SkinStore blog, and find all your essentials in one place.