A man shaves more than 20,000 times during his lifetime - and how he shaves is essential to attaining healthier, smoother skin. The Art of Shaving is a unique concept guided by the expertise and hands-on attention of its founders. To achieve the perfect shave, The Art of Shaving re-introduces you to an essential shaving tool, the shaving brush - the only tool designed to absorb water and deliver a rich, warm and protective lather to the skin. To complete the experience, The Art of Shaving creates beautifully handcrafted shaving razors. These shaving instruments are carefully designed to offer proper weight, balance and grip to ensure the best results.
While shaving might be a part of your daily routine, it might be a task that you don't put much thought into. However, when you invest in Art of Shaving's luxurious skincare products, you can truly transform your shaving routine, giving yourself a clean and smooth shave every day. If you're going to make the effort to shave, make it worthwhile and use Art of Shaving products. Whether you are looking to add a new product to your already established shaving routine or want to overhaul your entire process, you can find the products you need at SkinStore.
Art of Shaving offers products for every step in the shaving process. If you want to prep your skin before you shave, consider a pre-shave treatment, which softens your facial hair for an effective shave. A successful shave calls for a high quality shaving cream, and Art of Shaving creams provide the ultimate in skincare. They work to protect your skin from irritation and razor burn. Whether you opt for an unscented variety or a scented shaving cream in lavender or lemon, you will enjoy the benefits of the cream's glycerin, coconut oil, and essential oils. Don't forget about aftershave products as well. You can discover lotions and other skincare products that refresh and moisturize your skin for the day.
If you want to revitalize your entire shaving and skincare routine from start to finish, the Art of Shaving has you covered. Kits feature everything you need for a successful shave, from pre-shaving treatments to shaving cream, aftershave, and a soft yet effective shaving brush. Find these skincare kits in a variety of fragrances, and enjoy a completely transformed shaving experience every day.
Art of Shaving Customer Reviews
The Art Of Shaving Cream Lavender - Ultra smooth and easy shave. After shaving feels like I applied lotion without feeling sticky.
The Art of Shaving Full Size Kit - Ocean Kelp - This is such a manly product! I bought this for the best man in my wedding and he loves it.
The Art of Shaving Ocean Kelp After Shave Lotion - Art of Shaving Ocean Kelp is the best line to date. I have been using the Sandalwood fragrance for about 2 years, but will never go back now that I have tried this one. The pre-shave gel is so much better than the oil, and less mess in the sink. I even enjoy the shaving cream more.
The Art Of Shaving Full Size Kit - Lemon - This is great stuff, as I was expecting from The Art of Shaving. Some of the highest quality stuff available, and Skin Store has the best deal online that I could find (using 20% code). Lemon is much lighter than both Sandalwood and Lavender, which is great for my job working in schools where I can't have a strong aftershave. It doesn't bother my girlfriend, who is sensitive to smells. The only problem I have is that Lemon is so light that it doesn't leave the brush smelling good.
The Art Of Shaving Brush Stand Black - Needed a stand for my shave brush and didn't want to spend $50-$100. This stand fit the bill. Works great.
The Art Of Shaving Cream Lavender - I've been through many shave creams, trying to find the best of the best. The Art Of Shaving Cream Lavender is it! Doesn't take a lot, especially if you use the AoS shave brush. The lavender oil allows smooth gliding of the razor and I almost never nick my extremely sensitive skin. I won't even consider another shave cream.
See more Art of Shaving Reviews & Ratings.
For human beings, our hair is both a blessing and a curse. We stress about losing it on our heads, and fuss with shaving it off our faces, necks, and legs in the pursuit of a clean look. As such, most people dread shaving each day. However, with the help of Art of Shaving Products your daily routine can be more about pampering your skin than it is about torturing it with poor shaving products.
The full line of Art of Shaving Products is designed to deliver a comfortable shaving experience for both men and women. Inferior shaving products are harsh on the skin, tugging at hairs, offering little protection, and leaving skin on the face, legs, and other sensitive areas feeling dry and tight. The focus of Art of Shaving Products is to ease this pain with products designed to care for your skin before, during, and after the shaving process.
If you think that shaving is as simple as shaving cream and a razor, it is time to think again. Art of Shaving Products are designed to help out every step of the way to ensure a comfortable shave that is easy on your skin, leaving it healthy and vibrant in the aftermath.
Those looking to completely overhaul their shaving routine might find the Art of Shaving Full Size Kit Sandalwood useful. The full size kit with sandalwood aromatherapy scents is the perfect introduction to the Art of Shaving line of products. Included in the kit is a pre-shave oil to soften facial hair and prepare the skin, shaving cream, and after shave balm to soothe and refresh the skin. Also included is a Pure Badger shaving brush to help produce a rich, warm lather and bring water closer to the skin.
Is your regular shaving cream not providing enough protection while shaving? The Art of Shaving Alum Block is the perfect solution to this problem. Alum Blocks have been in use since the height of the Egyptian dynasties over 4,000 years ago. These blocks have antiseptic properties that can help fight razor burn, soothe irritation, and even quell blood flow resulting from a nick or cut.
No shaving product line would be complete without a shaving cream. The Art of Shaving Cream Tube Unscented is anything but your ordinary shaving cream however. Like all other products in the Art of Shaving family, this shaving cream has been developed using aromatherapy-based pure essential oils that have proven benefits for healthy skin. This particular cream contains glycerin and coconut oil to help smooth and moisturize the skin while protecting against razor burn and irritation.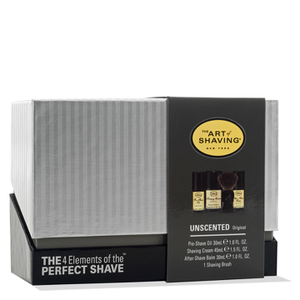 The Art of Shaving Mid-Size Kit - Unscented (Worth $81)
SkinStore Loves: 20% off with code FAVES
Apply code FAVES at cart. Offer valid for a limited time only. Exclusions Apply. Click SHOP NOW to view all included products.
SHOP NOW