Somme Institute
1 results
If you don't like what's out there, make something better. That's the philosophy of Somme Institute. The founders were disappointed that most of the skin care products they tested didn't deliver on their promises - so they assembled a team of researchers, dermatologists and skin care specialists to "crack the code" and find out what ingredients really would deliver smoother, clearer and more youthful skin. After more than seven years of testing on real people, this team of masterminds developed technology called MDT5 that speeds delivery of skin-nourishing vitamins and protein into the deeper layers of the skin - and Somme Institute was born. Since skin-reparative vitamins and other ingredients can't work their magic unless they can penetrate, Somme Institute's products really do "deliver."
When creating the Somme Institute collection, the research team knew that better technologies were needed to determine just how the skin was affected by environmental damage. State-of-the-art ultraviolet photography was used to view every layer of skin, studying where damage was most noticeable and how it manifested itself. After examining countless photographs, the team determined that the majority of the damage to the skin that was responsible for the appearance of signs of aging was in the middle layer of tissue. The problem was that ordinary skin care products only delivered ingredients to the top level of skin, leaving the rest of the tissue unaffected. This greatly limited how well the products could actually address environmental damage.
With the development of Molecular Dispersion Technology 5 or MDT5, Somme Institute has created a line of skin care products that can actually live up to their promises because they are capable of reaching the tissue that needs nourishment the most. The complex is a combination of vitamins A, B3, B5, C and E attached to a protein engineered to target the receptors in skin cells in the middle layer of tissue. This allows for enhanced absorption and treats the skin to nutrients that help it resist environmental damage while gradually rejuvenating damaged cells.
The Somme Institute skincare collection includes solutions for a variety of concerns. Whether your biggest worry is signs of aging, frequent acne breakouts or skin discoloration, there are formulas in the range to help you beautify your complexion.
Exposed to the potential for external damage each day, the skin suffers a wide range of maladies from dryness to wrinkling to discoloration to uneven texture. Finding and using exceptional beauty care formulas to minimize this damage is essential to your skin's continued beauty and radiant appearance. When you choose to include one or more of the existing Somme Institute Products into your daily skincare routine, you gain access to a wonderful array of skin-firming formulas that even out discoloration, minimize the look of wrinkles and creases, and offer reparative remedies for common skin issues. Created by a team of leading dermatologists and researchers, Somme skin care offer high performance as well as the revolutionary benefits of Molecular Dispersion Technology.
If your skin is in need of extra care, why not browse through the listing of Somme Institute Products in search of formulas that offer skin-soothing capabilities and restorative treatments?
For better looking skin that glistens with renewed smoothness and coloration, indulge in the proprietary formulas delivered directly to your skin by any one of the available Somme Institute Products.
Created with the powerful capabilities of Molecular Dispersion Technology, the hydrating formula of Somme products Neckline visibly improves the appearance of your skin, firming the neck area while minimizing the look of fine lines and wrinkles. Containing the benefits of an innovative delivery system for proteins and vitamins, this penetrating solution works to reduce skin damage created by sun exposure, rosacea, acne, and the aging process. It is fully capable of dealing with moderate to severe skin issues.
Delivering a wealth of skin-friendly benefits, Somme Institute A-Bomb softens fine lines and wrinkles, while also treating damage due to environmental exposure, rosacea, and acne. Infused with an innovative system that delivers vitamins and proteins directly to your skin, this lightweight cream offers a powerful solution using Molecular Dispersion Technology to improve your skin's texture, tone, clarity, and color.
Offering the advanced science of Molecular Dispersion Technology, the powerful formula of Somme Institute Serum delivers a bevy of highly potent vitamins and proteins to your skin in order to reduce the damage created by sun exposure, aging, rosacea, and acne. Containing a stabilized form of vitamin C, this collagen boosting solution aids in strengthening your skin's elastic nature while also brightening your countenance. Fine lines and wrinkles become smoother and less noticeable as this powerful solution is absorbed by your skin. The overall appearance of your skin is greatly enhanced with improved clarity, tone and texture.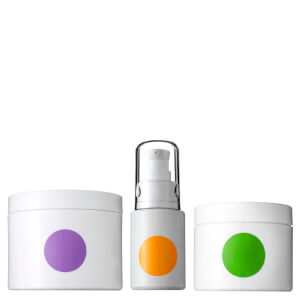 Somme Institute Vital 3 Set
Memorial Day Sale - Up to 50% off!
Click to view all products on sale
VIEW SALE