Added to Your Cart
Sorry, there seems to have been an error. Please try again.
Subtotal: ( items in your cart)
[MUSIC PLAYING - Happy upbeat]
(DESCRIPTION)
A hand picks up the Isdin Sunisdin container and opens it. The hand takes one of the pills and shows it to the camera. Text, ISDIN LOVE YOUR SKIN.
SUNISDIN is a once-a-day antioxidant supplement designed to defend against photoaging and enhance general skin health as part of a daily skincare and sun protection routine, SUNISDIN is powered by vitAox ULTRA, an advanced combination of vitamins, antioxidants and carotenoids that help to increase skin elasticity and radiance,
Vitamin A (as Beta-Carotene), Vitamin C (as Ascorbic Acid), Vitamin D3 (as Cholecalciferol), Vitamin E (as D-alpha Tocopherol), Selenium (as Sodium Selenite), Polypodium leucotomos Leaf Extract (Polypodium leucotomos L), Green Tea Leaf Extract (Camellia Sinensis (L) Kuntze), Grapeseed Extract (Vitis Vinifera), Lycopene, Lutein (Marigold Flower Extract) Other Ingredients: Sunflower Oil, Sunflower Lecithin, Maltodextrin, Dibasic Calcium Phosphate, Triglycerides, Starch, Arabic Gum, Yellow Beeswax, Medium Chain Triglycerides, Sodium Selenite. Capsule Ingredients: Gelatin, Glycerin, Red Iron Oxide, Titanium Dioxide, Black Iron Oxide
Take one SUNISDIN skin supplement daily in the morning, Swallow whole with plenty of fluid (water), Do not chew, Initial results may be seen in two weeks with full benefits seen after 12 weeks,* One Sunisdin softgel capsule daily can help in improving your skin's hydration, radiance and a decrease in the visible signs of photoaging, *Results may vary,
ISDIN SunISDIN Daily Antioxidant Skin Supplement with Vitamin D (30 capsules)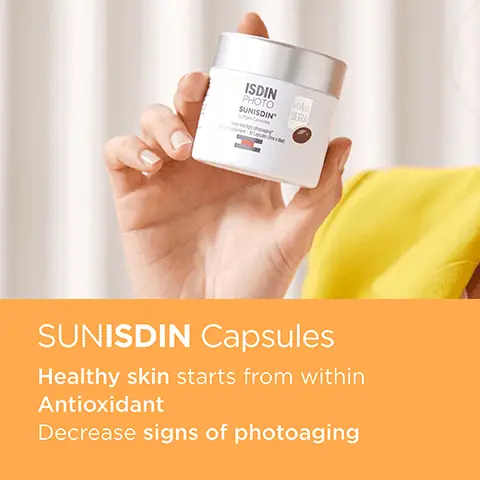 SUNISDIN is a once-a-day antioxidant supplement designed to defend against photoaging and enhance general skin health as part of a daily skincare and sun protection routine, SUNISDIN is powered by vitAox ULTRA, an advanced combination of vitamins, antioxidants and carotenoids that help to increase skin elasticity and radiance,
Vitamin A (as Beta-Carotene), Vitamin C (as Ascorbic Acid), Vitamin D3 (as Cholecalciferol), Vitamin E (as D-alpha Tocopherol), Selenium (as Sodium Selenite), Polypodium leucotomos Leaf Extract (Polypodium leucotomos L), Green Tea Leaf Extract (Camellia Sinensis (L) Kuntze), Grapeseed Extract (Vitis Vinifera), Lycopene, Lutein (Marigold Flower Extract) Other Ingredients: Sunflower Oil, Sunflower Lecithin, Maltodextrin, Dibasic Calcium Phosphate, Triglycerides, Starch, Arabic Gum, Yellow Beeswax, Medium Chain Triglycerides, Sodium Selenite. Capsule Ingredients: Gelatin, Glycerin, Red Iron Oxide, Titanium Dioxide, Black Iron Oxide
Take one SUNISDIN skin supplement daily in the morning, Swallow whole with plenty of fluid (water), Do not chew, Initial results may be seen in two weeks with full benefits seen after 12 weeks,* One Sunisdin softgel capsule daily can help in improving your skin's hydration, radiance and a decrease in the visible signs of photoaging, *Results may vary,
Customer Reviews
This product has no reviews. Be the first to write a review and you could
WIN A $100 VOUCHER
Zoom