Looking years younger without going under the knife is part of the latest wave of minimal cosmetic treatments.  Micro-current devices are a great option for anyone looking to firm and tone their skin. This technology is designed to soften wrinkles and rejuvenate skin, including skin damaged by sunburn, acne, stretch marks, cellulite and scarring. When used on the face, the treatments have become known as a "non-surgical facelift."
How Does Microcurrent Work?
Microcurrent mimics the body's own bio-electric current and works by passing low frequency, the direct current through muscle tissue to stimulate the muscle fibers. At home micro-current tools are a very effective option and growing in popularity.
How Microcurrents Help with Anti-Aging
The needs of the complexion change with age and many people find that their anti-aging regimens simply are no longer enough to keep lines and wrinkles to a minimum as they grow older. Traditionally, people in this position have had to choose between living with signs of aging or undergoing surgeries that, while effective, provide only short-lived results and pose risks for complications.

NuFACE offers a third solution: a powerful, FDA-approved at-home treatment that is clinically shown to effectively reduce the prominence of signs of aging.
The development of signs of aging is a complex process that involves both internal and external factors. As the body ages, collagen production slows, leaving the skin more susceptible to developing lines and wrinkles simply due to the natural pull on the tissue that occurs when frowning, smiling or furrowing one's brow.
In addition, ultraviolet energy and free radicals found in the environment around us act on the skin cells, damaging their vital structures. The result is a weakening of the skin that causes wrinkles and lines to emerge prematurely.
Microcurrent Devices on SkinStore
Our most popular micro-current device NuFace Trinity delivers unparalleled professional results in an easy to use at-home system. The NuFace Trinity is newly updated with an ergonomic design to deliver an amazing user experience. With the addition of interchangeable Infrared light treatment heads for added functionality, the NuFace Trinity makes it easy to achieve results in as little as 5 minutes a day.
How the NuFACE Trinity Can Help Your Skin
Every NuFACE device uses a gentle microcurrent, but each is designed for different treatment areas and skin conditions.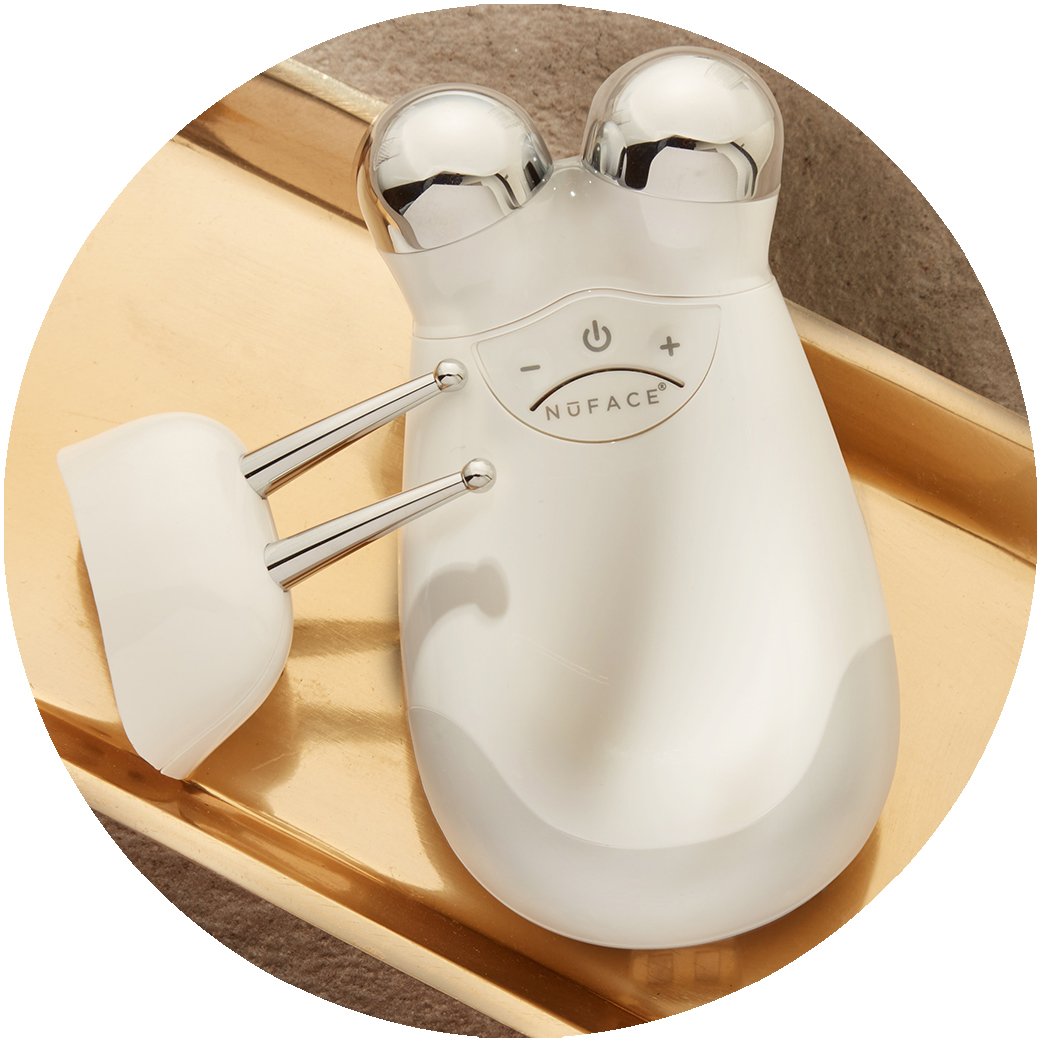 Take the large spheres on the Trinity Facial Trainer: they are perfect to contour, lift and firm your neck, cheeks, jowls, and forehead whereas the ELE attachment for Trinity is a precise treatment for eyes and lip helping treat laugh lines, crow's feet, and lines between your brows – you need a smaller sphere to work with the smaller muscles. You can even use the ELE to pop your brows and plump your lips.