The Limited Edition Beauty Box collaboration you don't want to miss is finally here.  See why thousands of people are snagging the Jurlique Limited Edition Beauty Box waiting list.
Over 30 Years of Botanical Skincare
From their beginnings more than thirty years ago, in the hills of South Australia, Jurlique has been a pioneer in the fine art of botanical skincare.
Founded in the 1980s by Ulrike and Jurgen Klein, Jurlique has always put ingredient purity first and foremost in their efforts. Ulrike, a horticulturalist and botanist, specialized in growing healing herbs. Jurgen, a biochemist and naturopath, created the original formulas behind our skin care products. They were both determined to use their deep knowledge of botany and biochemistry to unlock the healing powers of Nature to cultivate radiant, healthy looking skin. They saw to that mission by personally managing and protecting the farms their key ingredients came from, as they believed no product manufactured solely in a laboratory could have the same intense, nurturing power. By overlooking the production process with the knowledge, care, and precision to harness nature at its peak, Jurlique provides luxury products directly from nature's finest source beyond a traditional lab.
What's in the Box?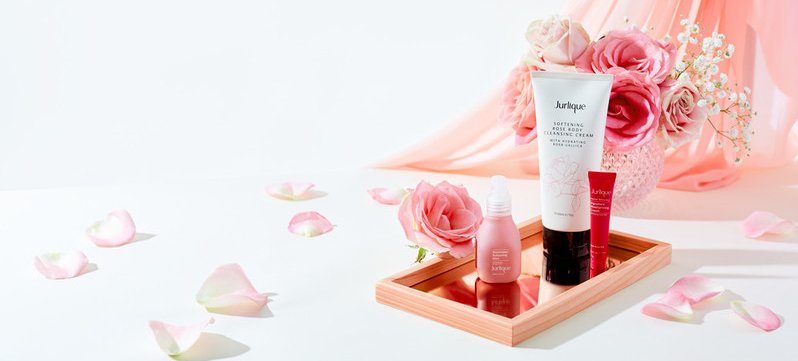 So, what exactly is in the box of this Limited Edition collaboration? Exactly what you need to kick off a new skin regimen!
Each box contains 6 products, including both full and deluxe sizes, with a value of over $185 at the steal-of -a-deal price of $55.  Products include but aren't limited to their Rose Hand Cream,  their Radiant Skin Foaming Cleanser,  and their international bestseller, the Jurlique Rosewater Balancing Mist!
Also, every Limited Edition box has an exclusive magazine packed with special tips and tricks from the experts at SkinStore and Jurlique, along with a giveaway of 3 Hydrating Mists!
A Rose by One Name: Jurlique
Jurlique has been engineering, cultivating, and harnessing the hydrating effects of roses to the point of revolutionizing their formula in their Rosewater Balancing Mists. Thanks to new innovative discoveries, the mists and future products  have been remastered to be more powerful, sensory and hydrating than ever. The mist specifically features the extract from the unique Jurlique Rose to improve skin barrier function, Marshmallow Root extract to support moisture balance, and Aloe Vera Leaf extract to hydrate, soothe and re-balance the skin. The new formula has been found by 89% of users to leave skin looking refreshed with a natural glow, after a single application.
Going…going…Get it Before it's Gone!
Days after its reveal, over 2,000 people have signed onto the wait-list! But don't worry, there's still time to snag one of these luxury beauty steals!