Ever found that sensational serum, or that must-have moisturizer that once you discovered it you couldn't live without? It does the work you need it to and it makes you look amazing. What if it could be even better? Shocking, right?
What are skin care cocktails?
Combining the right skincare products together can really give your skincare the rocket punch it needs to max out the benefits of your favorite complexion concoctions. So, we've done the chemistry for you—hard work, honestly—and put together a string of cosmically-powered skin care cocktails for your personal benefit.
Skin concern: Fine Lines
1. SkinCeuticals C E Ferulic + SkinCeuticals Hydrating B5 Gel
Introducing ferulic acid as the new retinol! Same effects, if not better, without drying out your skin! Hyaluronic acid holds up to 1000x its weight in water, helping your face draw in moisture and increasing its "plump and supple" factor by a ton!
2. Epionce Renewal Facial Cream + SkinMedica HA5 Rejuvenating Hydrator
Combining Epionce's flagship product with a blend of five types of hyaluronic acid sounds like the perfect pair to us. Get instantly smoother and plumper skin with this duo.
3. Sunday Riley Good Genes All-In-One Lactic Acid Treatment + Omorovicza Oxygen Booster
The multiple anti-aging benefits reaped from this single formula by Sunday Riley are amplified by the oxygen-enriched gel treatment by Omorovicza. The moisturizer, face mask, and brightening lactic acid serum create an all-in-one treatment to smooth fine lines and wrinkles while the circulation-improving lemongrass works with Omorovicza's hyaluronic acid to lock in moisture and revitalize dehydrated skin.
Skin concern: Fine Lines & Wrinkles
4. SkinMedica TNS Essential Serum + Erno Laszlo Phelityl Night Cream
Let SkinMedica's duo complex system of TNS Recovery Complex and APS Corrective Complex work with Erno Laszlo's sweet birch and clove oil blend to fill in fine lines and help plump and hydrate your skin. This concoction will super regenerate your skin as you sleep and give you a refreshed complexion upon waking up!
5. Caudalie Premier Cru Serum + Dr. Dennis Gross Skincare Ferulic + Retinol Wrinkle Recovery Overnight Serum
When Caudalie's Vinergy complex comes together with Dr. Dennis Gross's Ferulic + Retinol, there's a power-packed delivery of cell-stimulating ingredients that skyrocket cell turnover and rejuvenation for a perfectly plump complexion.
6. Paula's Choice Resist Intensive Wrinkle-Repair Retinol Serum + ARCONA Peptide Eye Wrinkle Repair
Retinol and hibiscus extract come together as a super-dynamic duo. The powerful retinol goes to work on the skin to act younger, and combined with the natural Botox-like effects of hibiscus, expect to see younger, plumper, regenerated skin in no time!
Skin concern: Hyperpigmentation
7. SkinCeuticals Phyto Corrective Gel + SkinMedica LYTERA Skin Brightening Complex
Combine the non-oily gel from SkinCeuticals with mulberry and SkinMedica's brightening vitamin C complex to supercharge your attack on discoloration and hyperpigmentation! The botanicals of SkinCeuticals and the powerful hydrating antioxidants in SkinMedica make this an undeniable pair.
8. SkinCeuticals Phyto+ + M2 Skin Care Skin Recovery Moisturizer
The hyaluronic acid base in SkinCeuticals Phyto+ provides intense hydration while kojic acid and arbutin dramatically improve the look of discoloration without causing irritation! Lock in moisture from the hyaluronic acid with M2 Skin Care Skin Recovery while antioxidants work to smooth the look of fine lines and wrinkles.
9. SkinCeuticals Discoloration Defense + Obagi Professional-C Serum 20% Strength
A unique combination of tranexamic acid, kojic acid, niacinamide and HEPES target stubborn dark spots and work to lessen their appearance in as little as two weeks! These effects are enhanced by Obagi's blend of l-ascorbic acid and hyaluronic acid that target discolorationto give you a youthful-looking complexion.
Skin concern: Firming and Tightening
10. ReFa 4 CARAT + Boots No.7 Lift and Luminate Night Cream
Mimicking the motions of an aesthetician, the ReFa stimulates blood flow and encourages collagen production and increases elasticity while Boots No. 7's shea butter-enriched formula helps to lift and brighten the complexion!
11. Alchimie Forever Firming Gel For Neck and Bust + Perricone MD Hypo-Allergenic Firming Eye Cream
Green tea and rosemary come together in Alchimie's award-winning treatment gel for neck and bust, and Perricone addresses the other, often-overlooked area of the body to deliver tightening, firming and brightening effects to dark spots and discoloration.
12. Elizabeth Arden Ceramide Plump Perfect Ultra Lift & Firm Moisture Cream SPF 30 + REN Keep Young And Beautiful Instant Firming Beauty Shot
Ceramides in Elizabeth Arden provide an instant boost to the skin over the face neck and decollete while REN works to tone, firm, lift and restructure the skin to improve facial contour. All this while smoothing fine lines and wrinkles. A facial lift in a bottle? Yes, please!
Skin concern: Dehydration
13. ARCONA Hydrating Peptide Complex + SkinMedica HA5 Rejuvenating Hydrator
With skin strengthing flavonoids, ARCONA works to replenish depleted skin and enhance moisture retention. Couple that with an instant layer of long-lasting moisture with SkinMedica's HA5 Rejuvenating Hydrator, which contains five forms of hyaluronic acid! Put the two together and you get a moisture-packed duo that heightens your skin's moisture retention which  draws in moisture to where you need it most!
14. SkinCeuticals Emollience Moisturizer + Erno Laszlo Hydratherapy Memory Sleep Mask
Let SkinCeuticals Emollience Moisturizer soften, smooth and tone your skin, and then have Erno Laszlo amplify those effects by pulling them into your skin as you sleep! Total and complete night-time regeneration? We think, yes!
15. PCA SKIN Purifying Mask + Skin Authority Tri-Power Peptide Hydrator
Gently exfoliate your skin, then lock in moisturizer for a plump, supple complexion with a triple threat against visible signs of aging. Amino acids and peptides work to hold moisture on the skin for longer while reducing the look of fine lines and wrinkles, and toning and brightening the complexion!
Skin concern: Acne & Blemishes
16. SkinCeuticals Blemish and Age Defense Serum + SkinMedica Retinol Complex 1.0
The unique blend of dioic and hydroxy acids in SkinCeuticals Blemish and Age Defense Serum fight against adult acne and the first signs of aging. What's better than a two-in-one? Enhance those acne-fighting properties by adding SkinMedica Retinol Complex 1.0, a retinol formula encapsulated with an antioxidant enhance skin texture and minimize irritation. Win!
17. PCA SKIN Acne Gel + Me Clear Anti-Blemish Device + Juice BEAUTY Blemish Clearing Toner Pads
Having an open relationship with acne that's a tad too love/hate for you? Take control with an effective salicylic acid treatment that not only targets existing acne but reduces oil production and prevents future breakouts as well. Want better? Arm yourself with the anti-blemish LED device from Me Clear to reduce the appearance by 19% after just one use! Amplify all these effects with Juice BEAUTY Blemish Clearing Toner Pads that are 100% bamboo which has bacterial-inhibiting properties!
18. Replenix Retinol Smoothing Serum 10X + Juice BEAUTY Blemish Clearing Cleanser
Discover blemish-blocking superpowers with this combination of retinol and lemon, cherry, and aloe juice inside of a serum and a cleanser! Increase cell turnover while fighting acne and blemishes with Replenix, and let Juice BEAUTY remove impurities while healing and cleansing the skin of toxins.
Skin concern: Dull & Tired Skin
19. Dr. Dennis Gross Alpha Beta Peel Extra Strength Formula + Caudalie VinoPerfect Concentrated Brightening Essence + Epionce Renewal Lite Facial Lotion
First things first in reviving tired skin? Get rid of the old! Using Dr. Dennis Gross Alpha Beta Peels will gently exfoliate the skin and Caudalie essence will gradually brighten the complexion while helping your skin to absorb your moisturizer and all other products you use on your skin to enhance their effectiveness!
20. SkinCeuticals Micro-Exfoliating Scrub + SkinMedica Vitamin C Plus E Complex
Revitalize your complexion with natural microbeads made of soft sedimentary rock, while aloe works to soften skin and reduce inflammation. Combined with the protective antioxidant properties of SkinMedica Vitamin C Plus E Complexand you have a wake-up call your skin can't ignore!
21. Jurlique Skin Balancing Face Oil + Vichy LiftActiv Vitamin C Serum Brightening Skin Corrector + ESPA Skin Radiance Mask
Discover more products on our SkinStore website here.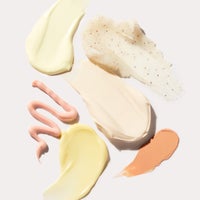 Our team of beauty experts cover everything from skincare to makeup, picking out the most effective products from the best brands and latest trends. Stay up to date on everything beauty with the SkinStore blog, and find all your essentials in one place.