See how Priori brings adaptive skincare to your beauty routine! 
An Innovative Team
Acquired in 2017 and established in the Biotech valley of San Diego CA, Priori's founding was driven by a group of consumer and beauty industry innovators. Dawn, David, Dan, Regis and Jaime.
They were involved in some of the most formidable beauty and CG industry brands. Their friendship united them around a common vision: Bring biology and biotechnology advances to cosmeceuticals and natural/clean beauty to create efficient, functional and innovative products, so that women and men of any age and ethnicity can achieve their ideal skin.
Adaptive Skincare
Formulated with a deep understanding of skin biology, as well as inevitable variables like climate, physical well-being, hormones, and skin's mood swings, Priori features multi-functional, comprehensive ingredient technology that provides skin with exactly what it needs. Skin decides what to take – all day, daily – for its best, most radiant face-first results. Priori packs the industry's most intensive dose of advanced hydration and antioxidant protection in every product.
Dermatology At Home: The PRIORI Skincare, LCA fx160 2xfoliant Peel and Scrub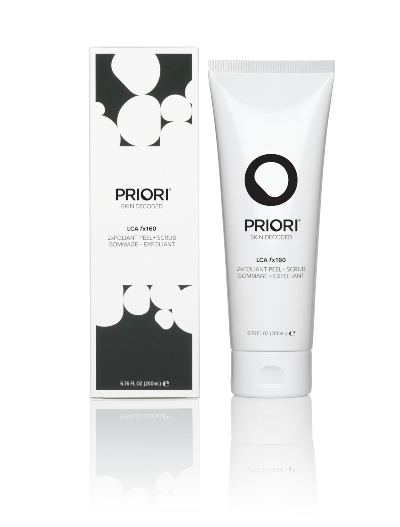 This functional formula is considered by many as an "at home" micro derm.  The perfect balance between a mild chemical peel with AHAS and a mechanical micro exfoliator, using ocean-friendly beads, this formula is perfect for your body and face as it's not too strong, and not too mild….it's just right.  Meet your new exfoliator treatment.
How to Use: For perfect weekly exfoliation/peel apply a liberal amount with hands, washcloth or sponge and gently massage over face and body. Rinse with water and pat dry. For very dry areas, apply dry and then put a small amount of water in your hands and massage the dry areas for more intense exfoliation.