It would be an understatement to say that 2016 was a very good year for beauty oils. Sales of cleansing and nourishing oils have recently soared, with more and more beauty-conscious women keen to know more about these beautifying multi-purpose oils. If you look into the main purpose, these strike the perfect balance between creams and actual oils, making them a super interesting product.
Changing Opinions
At first, women were skeptical of using something so oily in texture on their faces, especially those with oily complexions. I mean, why put more oil onto an oil slicken face? Its a fair point- and it's not enough to simply grab any old oil and slather it all over your face, hair, and body. Research is needed to determine which glide-on elixir will get you the most benefit. And believe us when we say there are lots!
Don't know where to start? We tried and tested many skin-loving oils over the past month, and found there is one out there which is a one-oil-fits-all favorite. Introducing RMS Beauty Oil- a pure, multi-purpose elixir that perfectly infuses the skin with everything it needs.
Why We Love RMS Beauty Oil
There are many reasons why our beauty team here have fallen in love with this skin enhancing oil. It's hard to whittle them down to a top list, but we've had a go!
It has a lightweight yet highly concentrated formula, making it easy to glide onto the skin without feeling heavy, sticky or oily.
Even after the first application, it promotes skin radiance and antioxidant protection, revealing brighter skin.
It features a  dose of exotic oils, including nutrient-rich

Buriti Oil,

and in-house-sourced herbal extracts work in synergy to hydrate, illuminate and protect the skin.
It's suitable for all skin types, from oily to dry and everything inbetween
It's up on a concoction of natural essential oils, like

Jojoba, Rosehip, Vanilla Seed and Marigold

.
Works as a concentrated moisturizer, with no water content, therefore just 2-3 drops is enough under makeup. Therefore, it lasts for ages!
How to Apply
The majority of facial oils are usually very potent, as they are made up solely of essential oils and natural properties. After cleansing, simply apply 2-3 drops to the fingertips and massage into the skin. Leave to sink in for up to 1 minute before applying a moisturizer (if you are using your beauty oil as a treatment step), or foundation (if you are using in replace of).
RMS Beauty have an extensive range of makeup products and other skincare heroes alongside this fantastic oil. They are especially loved for their collection of little beauty pots, containing effective concealers, highlighters and eye polishes to name a few. Take a look below at some of our other favorites, great to use alongside this Beauty Oil.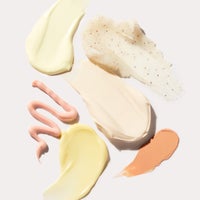 Our team of beauty experts cover everything from skincare to makeup, picking out the most effective products from the best brands and latest trends. Stay up to date on everything beauty with the SkinStore blog, and find all your essentials in one place.