Are you passionate about achieving makeup-free, natural glowing skin?
Feeling confident and fresh-faced can be life changing as once you know your skin is happy, you'll feel happy and carry that level of heightened self-esteem around with you. SkinStore can help you fulfil your need for healthy skin to support your self-confidence and bring out how you want to be perceived by people.
Here are a few recommendations to achieve that perfect glow, without a trace of wearing cosmetics and achieving that "au natural" appearance:
Caudalie Vinoperfect Glowing Set
Caudalie's Vinoperfect set is a perfect step towards gaining a healthy glow and even skin tone that we all strive to achieve.
The Caudalie kit contains your 3 essentials:
1. Vinoperfect Radiance Serum Complexion Correcting
This age-defying anti-dark spot treatment is Caudalie's best-selling product. Helping improve an uneven skin tone, the natural ingredients used in this product are proven to be 62 times more effective than Vitamin C. This results in an overall natural and glowing appearance.
Key Ingredient: Squalane – this hydrates and softens the skin, as well as protecting the skin from UV rays.
How To Use: Apply ½ a drop to the face twice a day.
2. Glycolic Peel
The 2-in-1 masque works as an effective yet soft exfoliation which helps to uncover a natural radiance.
Key Ingredient: Tocopherol – a naturally occurring antioxidant helps prevent chemical reactions.
How To Use

:

Apply once/twice a week leaving the masque on for 10 minutes before gently washing off.
3. Vinoperfect Cell Renewal Night Cream
This cream helps to reduce pores and improves skin pigmentation in your sleep, stimulating the skin.
Key Ingredient: Arginine - the amino acids work as a skin conditioner to help boost the radiance of the skin.
How To Use: Apply daily before bed.
With the ideal combination of Caudalie's top products, you will be on a quick path to achieving healthy and glowing skin.
Dr Dennis Gross' Alpha Beta Glow Pad
Dr Dennis Gross' Alpha Beta Glow Pad is a true miracle worker for achieving radiant skin with a "makeup free" look. As the only anti-aging sunless tanner which contain Vitamin D, this product enhances your natural luminosity all year round, reducing the need for any kind of concealer or foundation.
Fresh-faced, streak-free and long-lasting, the Alpha Beta Glow Pad helps sooth your skin, as well as demolishing skin imperfections such as dark spots, pores and generally tired looking skin.
Key Ingredients To Make It Work:
Vitamin D – skin needs these vital vitamins to function properly and the additional antioxidants help benefit the skin.
Microencapsulated DHA – provides color in the skin and causes the skin to appear brighter and protected from exfoliation.
SOY Proteins – Soy is from Isoflavones which protects the skin against hormone-related aging; this therefore helps improve smoothness to the skin.
BetaHydroxy Acids and Alpha work as a strong exfoliation, taking away blackheads and helping get rid of an uneven skin tone. Therefore, the skin is left feeling rejuvenated, clean and carrying a healthy overall glow.
Skincare Tip: To achieve a darker glow to the skin, simply place more of the product onto your face.
Ole Henriksen's Truth Sugar Glow Polishing Mask
For a real instant glow to the skin, there's nothing more divine than Ole Henriksen's Truth Sugar Glow Polishing Mask.
As you can see from the product image, this exfoliating mask is filled with Raw Sugar to give the face a thorough polish, with the purpose to cleanse, soften and provide color to the skin.
How To Use: Apply to clean and wet skin, leaving on for 5-10 minutes. Apply 3-4 times a week.
Ingredients:
Sugar and pomegranate seeds: natural AHAs
Rose hips and pumpkin extract
Botanical blend
Carthamus Tinctorius
The concoction of ingredients used above all help to exfoliate dull skin, which thoroughly hydrate the skin and most importantly, provide a natural and healthy glow.
To visit our full product range that provides ways to achieve glowing skin click here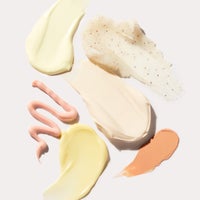 Our team of beauty experts cover everything from skincare to makeup, picking out the most effective products from the best brands and latest trends. Stay up to date on everything beauty with the SkinStore blog, and find all your essentials in one place.