We are delighted to have the beauty team at Elizabeth Arden join us in our tutorial on how to enhance your complexion all year round.
Elizabeth Arden is an established brand with an international reputation for quality and excellence, as their skincare technology combines unique ingredients to produce impressive results.
Their ceramides, idebenone, and biodormin have been developed to deliver measurable improvements in the tone, texture, and condition of the skin to maximize results of your daily skincare products.
From discovering the unique and scientific development of their product range, read on to find out how to enhance your natural features in just a few steps.
Step One: Prevage City Smart SPF 50 Hydrating Shield
Elizabeth Arden's Prevage City Smart SPF 50 Hydrating Shield  should be the first step in your makeup routine and the last step in your skin care regimen.
The hydrating, anti-aging formula utilizes triple action protection to safeguard skin from pollution, UV rays and visible signs of aging; a must-have in your makeup bag.
Step Two: Flawless Start Instant Perfecting Primer
Create a flawless base in your makeup by using the Flawless Start Instant Perfecting Primer.
The silky, lightweight, universal primer instantly perfects the look of  the skin; creating the perfect canvas to enhance the look and wear of your makeup. The primer therefore will help to refine your pores and help your makeup last all day.
Step Three: Prevage Foundation
Next, take the Prevage Foundation and buff into the skin, starting from the centre of the complexion and working outwards to the jaw and hairline.
The liquid foundation is renowned for feeling lightweight on the skin whilst delivering light to medium coverage with a naturally luminous finish.
Step Four: Flawless Finish Correcting and Highlighting Perfector
Use the Flawless Finish Correcting and Highlighting Perfector just under the eye area to illuminate and correct any darkness or fine lines.
At this stage, add mascara to define the eyes. The Elizabeth Arden Beautiful Color Maximum Volume Mascara is an intense black formula that leaves lashes enviably defined/
For the brows, remember to brush them upwards to keep them feathered; set in place using the Eight Hour Cream.
Step Five: The Eight Hour Cream
The Eight Hour Cream  is a true multi-purpose product.
Apply just a little bit of the cream onto the lips to moisturize them and add a subtle shine. A small amount can also be applied to the top of the cheekbones to give a natural glow.
Today, a tube of Elizabeth Arden's Eight Hour Cream is sold every 30 seconds somewhere in the world.
Not only does Victoria Beckham swear by it but Barack Obama and Prince Harry have also been known to use it.
Step Six: Flawless Finish Ultra Smooth Pressed Powder
To finish off, add a small amount of the Flawless Finish Ultra Smooth Pressed Powder in any areas which have excess shine.
And that's how you will achieve the 'No Makeup' Makeup look with Elizabeth Arden!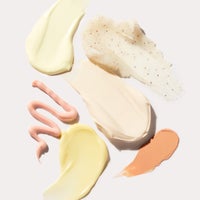 Our team of beauty experts cover everything from skincare to makeup, picking out the most effective products from the best brands and latest trends. Stay up to date on everything beauty with the SkinStore blog, and find all your essentials in one place.