Lilli Gordon founded First Aid Beauty in 2009, after being unable to find luxurious, feel-good solutions for common skin care challenges that were often overlooked. Today, the brand strives to create formulas with effective and active ingredients that deliver clinically proven results without skin irritation. First Aid Beauty formulates its products with non-toxic ingredients and strikes a 'just right' balance between active and soothing ingredients such as oatmeal, aloe and ceramides—making products suitable for all skin types, even sensitive skin. Plus, each product is dermatologist tested to ensure that you'll experience great results without upsetting your skin or potentially causing harmful side effects.  
To help you revamp your skin care routine, we've rounded up our First Aid Beauty must-haves from head-to-toe! From cleansers to ingrown hair treatments, your skin will be smooth and glowing, ready for the new season ahead. 
For the Face
Pure Skin Face Cleanser
This whipped, fragrance-free cleanser helps to remove makeup, oil and dirt. The formula is pH balanced and non-stripping, with nourishing ingredients such as aloe and glycerin to help calm hydrate your skin and reduce redness.  
Facial Radiance Pads
These treatment pads are great for those experiencing skin dullness, uneven skin tones and uneven texture. These are safe for daily use for all skin types and are formulated with cucumber and Indian gooseberry to help tone your skin. Lemon peel and licorice root aid in brightening to leave your skin glowing. If used regularly, these pads can smooth your skin's texture and provide a perfect base for makeup application. 
Ultra Repair Firming Collagen Cream
This collagen cream helps combat loss of firmness, the appearance of fine lines and wrinkles and dryness, working best for normal and dry skin. It's formulated with collagen, peptides and niacinamide to help smooth your skin, making it look healthier and more youthful. With regular use, this hydrating cream can help restore skin's volume while visibly reducing fine lines and wrinkles.  
For the Body
Ultra Repair Cream
This is a head-to-toe moisturizer that delivers instant relief and long-lasting hydration for dry and distressed skin—even for those who experience eczema. It's formulated with colloidal oatmeal to hydrate and calm, shea butter to moisturize and First Aid Beauty's antioxidant booster to protect your skin. The perfectly whipped texture instantly absorbs into your skin with no film or greasy feel.  
KP Bump Eraser Body Scrub
Formulated with 10% AHA to help loosen your skin's top layer to decongest pores and smooth texture, this body scrub helps remove dry, rough bumps to reveal smoother and healthier looking skin. Use it 1-2 times a week by applying it to wet skin and massaging it gently. Be sure to follow up with your moisturizer! 
KP Smoothing Body Lotion
This body lotion combines the hydrating properties of a moisturizer with the benefits of chemical exfoliation and is formulated with 10% lactic acid to promote smooth and supple skin. It works to help resurface the top layer of skin and minimize the appearance of bumps and dryness. Colloidal oatmeal and ceramides work to soothe and hydrate, delivering more moisturized and healthier-looking skin with daily use.
Ingrown Hair Pads
The Ingrown Hair Pads are a daily treatment that helps to relieve razor burn and soothe irritation. Ingrown hairs are a common result of regrowing hair getting trapped beneath your skin's surface after waxing or shaving and can cause a painful bump or irritation. It can happen anywhere you remove hair, including the bikini area, underarms and legs. These treatment pads are non-stripping, alcohol-free and are formulated with glycolic acid, salicylic acid, witch hazel and aloe to exfoliate, brighten and soothe your skin.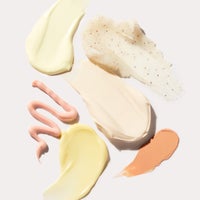 Our team of beauty experts cover everything from skincare to makeup, picking out the most effective products from the best brands and latest trends. Stay up to date on everything beauty with the SkinStore blog, and find all your essentials in one place.