A basic skincare regimen that includes cleansing, hydration and sunscreen is essential, but at some point, you may need a little extra help to improve the appearance of fine lines, wrinkles, uneven skin texture, loss of firmness and early signs of sun damage.
A targeted serum is an easy way to amplify your existing routine, and there are three key ingredients that can help take your skincare to the next anti-aging level.
Hyaluronic acid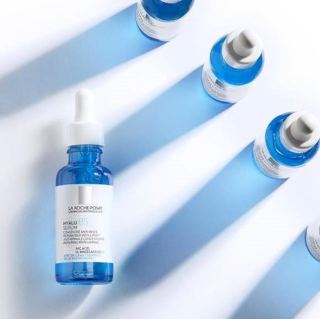 What it's good for: Fine lines, loss of elasticity and volume, dehydrated skin
One of the most efficient hydrating skincare ingredients you can get your hands on (and on your skin), hyaluronic acid provides instant skin softening, smoothing and plumping that's ideal for all skin types, including sensitive and acne-prone. Beyond attracting moisture to the skin, this ingredient also helps reinforce the skin's barrier, which prevents hydration from evaporating and protects against irritation caused by external aggressors.
Product to try: La Roche-Posay's Hyalu B5 combines two forms of hyaluronic acid, madecassoside, soothing vitamin B5 and mineral-rich thermal spring water in one highly effective, concentrated serum.