The neck experiences unique changes over time, and this thin, delicate skin is actually quite similar to the skin around the eyes. The natural decline of collagen over time leads to wrinkles, loose skin and a crepey appearance, and a lower level of lipid (oil) production can result in a weaker skin barrier. 
Even more, neck skin is more susceptible to wrinkles that are deeper than those on the face, and repetitive movements can play a significant role. (Looking down at your phone or other device countless times a day doesn't help!). And according to physicians, signs of aging can start to appear on the neck as early as your twenties. 
Instead of covering up with turtlenecks and scarves, how about trying an advanced, targeted skincare treatment that is clinically proven to smooth visible horizontal neck lines, enhance skin firmness and reduce the appearance of crepey skin? Meet SkinCeuticals' new Tripeptide-R Neck Repair… 
 Announcing the Tripeptide-R Neck Repair
With a unique combination of powerful ingredients that improve visible signs of aging as well as technology-induced neck changes, Tripeptide-R Neck Repair features the ideal concentration of pure retinol that helps smooth the look of lines, plump the skin and enhance the firmness of delicate neck skin. In addition, this cutting-edge formula harnesses the power of tripeptides to maintain firmness and minimize sagging. 
Rounding out this neck-perfecting trifecta of ingredients is a glaucine complex derived from a species of poppy plant that boosts the skin's resistance to the factors that contribute to visible neck aging. 
The perfect addition to any skincare regimen that includes advanced products for visible signs of aging and sagging on the face (such as SkinCeuticals' A.G.E. Interrupter) or age-related dryness (such as SkinCeuticals' Triple Lipid Restore 2:4:2), Tripeptide-R Neck Repair is also ideal for anyone who can't put their phone down for even a second and is worried about device-induced aging (and wants to look their best in selfies).
As an added bonus, this targeted daily-use at-home treatment can complement professional fat-freezing treatments for reducing a double chin and office-based radiofrequency treatments for firming and tightening the skin.  
Proof that Tripeptide-R Neck Repair Works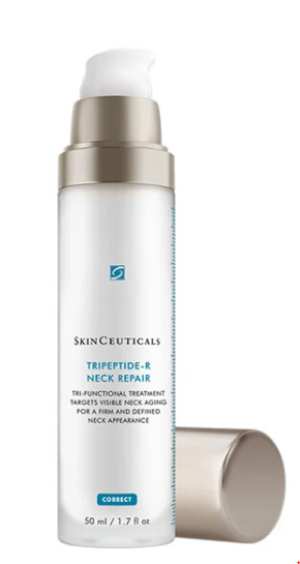 SkinCeuticals performed a 16-week study that included women between the ages of 40 and 60 with fine lines, horizontal wrinkles, loss of firmness, sagging, rough texture and uneven skin tone on their necks. These women used Tripeptide-R Neck Repair with sunscreen for one week before increasing Tripeptide-R Neck Repair application to twice a day. At the end of the study, the results showed: 
27% improvement in crepiness 
16% improvement in the appearance of horizontal neck lines and wrinkles 
16% improvement in firmness 
16% improvement in elasticity 
13% improvement in the appearance of sagging 
Retinol is one of the most extensively studied and proven-effective ingredients for improving the appearance of skin aging, but delicate skin on the neck requires a lower concentration than formulas designed for facial use.
Tripeptide-R Neck Repair features a neck-specific dose of retinol to minimize the risk of irritation, and pairing this treatment with SkinCeuticals' Triple Lipid Restore 2:4:2 can help neck skin adjust to the introduction of retinol more quickly while replenishing essential lipids to help smooth and nourish the skin.  
With Tripeptide-R Neck Repair, you can reveal your youthful-looking neck contours to the world without stressing  about the contribution your screen time may be making to those visible horizontal lines. When used as part of a comprehensive anti-aging skincare routine that includes a daytime antioxidant serum, advanced anti-aging products for the face and daily sunscreen, Tripeptide-R Neck Repair can help your neck look better than ever.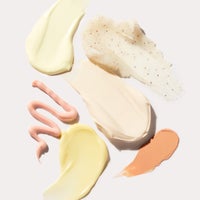 Our team of beauty experts cover everything from skincare to makeup, picking out the most effective products from the best brands and latest trends. Stay up to date on everything beauty with the SkinStore blog, and find all your essentials in one place.