Winter conditions can exacerbate skin dryness. Change in temperature, humidity and use of indoor heating are all good reasons to rethink your skincare routine. Dry skin is fragiler, more sensitive and more likely to give you an aged appearance. Winter is the perfect time to give your skin the TLC needed for healthy and hydrated skin. Here are some of my favorite tips to care for your skin during the cold months ahead.
Switch to a Gentle Moisturizing Cleanser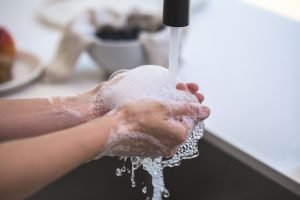 The skin becomes drier and more sensitive with the onset of colder weather. To help keep the skin's barrier as healthy as possible, it may be necessary to switch to a gentle cleanser. After cleansing, skin should feel calm and hydrated.
"If your skin feels tight, it's likely that your cleanser is too strong."
Choose moisturizing cleansers like the PCA Skin Creamy Cleanser. This hydrating formula effectively removes dirt and make-up without stripping the skin of its essential moisture. With the added ingredients of Rose Hip Seed oil and Aloe, the skin is left feeling supple and nourished. In the winter, opt for a creamy cleanser to moisturize and protect the skin's barrier.