Happy Fashion Month! I always look forward to seeing what weird and wonderful trends they'll think of next, but when I'm not ready for galoshes (I'm looking at you Moschino), or stylish enough for unisex leggings (sorry Yeezy) at least I'll always have the hair and make-up looks to turn to. The next four weeks will be a whirlwind of seasonal inspiration, and to celebrate we're sharing some of our learnings from Fashion Week, behind the curtains.
What does Fashion Week look like backstage?
The backstage buzz is unrivalled. Everybody is packed in like a can of sardines and they've been there for hours. There's drama, as interns rush around carrying out last-minute errands and searching for missing items, while the press Instagrams each mini-story and scribbles down notes.
There's a sea of diverse models who are either chatting, eating low-fat snacks, being dressed or having their faces painted and their hair styled. Usually, someone with a clipboard and a headset is asking fifty questions while the designer's entourage carry out other unidentified tasks that, in one way or another, contribute towards the show. Then it's light's down, music, action, fashion, beauty. The atmosphere backstage continues at 100mph, right up until the clapping and beyond.
Commonly spotted products
Facemasks (for instant face lifts and radiance), micellar water (of course) and hairspray (what, you think they woke up like that?)
Make-up Tricks
We've set the scene, but what little tricks are the artists pulling before the showdown? Here's a few:
One of the easiest ways to cheat a youthful look is by drawing on freckles. Make-up artist Lynsey Alexander says that Kate Moss always asks for a smattering of freckles. "It gives you that youthful freshness and glow. The trick is to use your brow pencil and dot randomly before smudging it with your finder, so it looks like skin rather than make-up."
Get the look with Lashfood's Eco-precision 2-tone Brow Pencil, which is inspired by duo brow powders and creates perfectly even colored brows by using two shades for natural highlights and lowlights. The color formula even features a rosemary complex to help nourish and restore brow follicles.
At 3.1 Phillip Lim SS15, makeup artist Francelle Daly sandwiched two shades of blusher, a peachy hue, a pinky hue, and then the peachy hue again, to create a universal color that suited all skin tones. The goal was emulate the way the sun hits the skin. Mix and match with bareMinerals' Pop of Passion Blush Balms to work this look.
To get the right base color for you - mix up the shades. Dani Fonseca, who's in charge of making sure the Victoria's Secret angels' bodies glow told Elle last year that mixing foundation with moisturizer was the way to go. Rub it on legs and arms and apply highlighter on top for an all-round glow.
Joanna Czech, Uma Therman's facialist, also suggests using a serum foundation as it makes your skin look younger and fresher. You can make your own by mixing a serum or facial oil in with your regular foundation. Try something from the Sunday Riley range to get a beautiful, dewy glow.
Celebrity make-up artists Hannah Murray has mastered the art of Twiggy lashes, which are beginning to make a comeback now. She recommends curling first, "then immediately apply waterproof mascara as it holds lashes up much better than a regular formula. Follow with 2-3 coats of black mascara, wiggling the brush through." Sometimes Murray dries the mascara out. "I leave the lid off for a day or two to get the right texture - it makes all the difference."
Start with Tweezerman's ergonomically designed eyelash curlers, and then open your eyes with Sigma's Sinuosity Lash Mascara - a waterproof formula with 13 hour wear.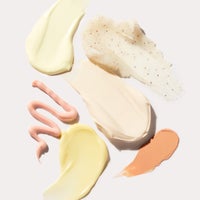 Our team of beauty experts cover everything from skincare to makeup, picking out the most effective products from the best brands and latest trends. Stay up to date on everything beauty with the SkinStore blog, and find all your essentials in one place.