The time has arrived: singing sensation Adele has landed in the states, kicking off her US tour. It's impossible not to love this English rose and her soulful, deceptively mature voice. From listening to just a snippet of her songs, it's clear this talented British girl grew up listening to classic American Jazz and Blues, before taking up songwriting and producing her own style. We don't know about you, but cult classics such as Someone Like You and Rolling In The Deep are regulars on our playlists.
It's not just Adele's incredible music which has lead her to be the nation's sweetheart; it's also her fresh, youthful looks and impeccable makeup which has got us all in admiration. Her look is part vintage, part sexy, sitting well with her glossy styled hair and flawless complexion.
https://www.instagram.com/p/BBsMaSHgfNR/?taken-by=adele&hl=en
In honor of the stars stateside tour, we've put together a dedicated 'Get The Look', showcasing how to re-create her classic and natural make-up look. From peachy flushed cheeks to that signature cat-eye flick, here's how to master an Adele-esque face:
THE BASELets start with the basics: the base.
Adele has a naturally pale English Rose complexion, enhanced with warm peach tones. Start with a light-weight, pore-minimizing moisturizer- ideally one which will prep the skin for a flawless finish. Pores and dry patches hide away with the

SkinCeuticals Daily Moisture Moisturizer,

which contains botanical extracts to help reduce pore size.
We also recommend priming the skin once the moisturizer has sank into the skin with a long-wearing, matte finish primer, such as

Boots No.7 Photo Fix Wrinkle Filler and Primer

. Its light diffusing particles smooth fine lines and wrinkles, putting uneven skin tone and pores into soft focus. The combination of a good quality moisturizer and this anti-ageing, skin-loving primer will ensure foundation layers on to its best ability, lasting all day.
To create Adele's dewy, glowy skin, opt for a light reflecting concealer which provide a fresh, healthy look. Her skin is blemish-free (lucky lady!), so this may mean opting for a medium-full coverage foundation for those of us who aren't blessed with clear skin. Start by applying a creamy concealer, such as

Dermablend's Smooth Liquid Camo Concealer in Biscuit

. It will disguise any dark under-eye circles, skin discoloration or blemishes, prepping the complexion for a layer of sheer foundation.
For the foundation, we recommend

Amazing Cosmetics Velvet Mineral Liquid Finish Foundation

in Light Golden, which seamlessly blends into your skin tone. It's also packed full of Essential Vitamins and Minerals to nourish the skin, for visibly improved tone and increased radiance.
THE EYESAdele's retro inspired eyes are arguably the most iconic part of her makeup look - so don't rush this step!
At this point, you should have a light base of concealer and foundation on your eyelids to prime the eyes.
Start by using a soft champagne color shadow, and sweep over the entire lid. This creates the base for Adele's smokey cat-eye look, opening up the lid and adding subtle shimmer. For a daytime Adele look, a blend of

bareMinerals Mixologist and Cognac

(Champagne Sheen and Gilded Bronze) shades will make the eyes pop without looking too dramatic.
If you wish to deepen this a little for the evening,

Stila's Perfect Hue Eye and Cheek Palette

features some dazzling bronze shades for a little more 'wow'
The next step is to use a sharp black liquid eyeliner to carefully build a striking cat-eye liner flick. Start from the inner corners, and take the ends right to an up-turned flick for a real retro, 60s look. We can't get enough of

LashFood's Conditioning Liquid Eyeliner

and

Conditioning Volume Mascara

for drawing attention, as well as caring for this area too. LashFood products are great for nourishing lashes, making them longer, thicker, and stronger with their revolutionary nano-peptide technology. It's not often eye makeup products can enhance your eyes whilst caring for them too!
THE BROWSYou'll notice that although Adele has a fair complexion and hair color, her brows are strong and statement every time.
If you struggle to grow your brow hairs, ultilize an eyebrow conditioning product such as the much loved

Talika Eyebrow Lipocils Expert

. Enriched with peptides, a protein known for its anti-ageing properties, this gel supports the rejuvenation of the brows; promoting stronger brows and thicker hairs.
In the meantime, fill in any gaps you may have with an easy-to-use, professional brow pencil, such as the

Anastasia Brow Definer in Chocolate

. A rich, warm brown shade will stand out against a flawless face, creating that groomed Adele look.
THE CHEEKSAdele is all about a pop of statement blush, but you'll see she loves a subtle contour too.
Keep the contour light and blended, so that the swirl of color at the cheeks is the main focus. Adele opts for pretty peaches and soft apricots, so we suggest replicating this look with

bareMinerals Ready Blush in Natural High

- a warming peach with an alluring pigment.
To bring the cheeks alive and add a touch of highlighter, finish off with a touch of

RMS Master Mixer Highlighter

. This luxurious rose gold toned highlighter blends effortlessly with any cheek product to deliver a pearlescent glow.
THE LIPSLast but not least, finish off your Adele face with light, matte lipstick shades.
It seems Adele wears a mix of nudes and soft roses, which always enhance her lip shape and give the illusion of bigger, fuller lips.
Our favorites include the 

Lipstick Queen Sinner Opaque Lipstick

in Bare Nude, or

True Issac Mizrahi Matte Lip Color

in Cutie - a soft pink shade.

 

Although matte, these both have a silky finish, preventing the lips from looking too 'solid', and much more natural. 
And Voila! Let your hidden English Rose look shine through. Remember to keep practicing getting your cat-eye flick – its impossible to get right first time. It can take a few goes to work a steady hand and a straight line, and practice makes perfect!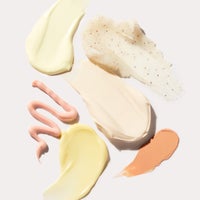 Our team of beauty experts cover everything from skincare to makeup, picking out the most effective products from the best brands and latest trends. Stay up to date on everything beauty with the SkinStore blog, and find all your essentials in one place.