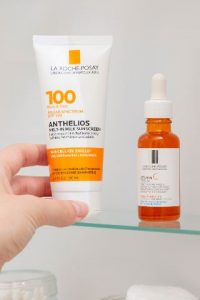 When it comes to sunscreen, you might be wondering what level of SPF you really need. And the answer is, it depends on several factors. If your skin is especially sun-sensitive, burns easily or you simply want added protection against the sun's damaging UVA and UVB rays, more is definitely more when it comes to SPF. It's also important to take the necessary steps and time to apply (and reapply) properly, and a high level of sun protection can act like an insurance policy in the even that you don't.
(An SPF of 100 or higher does not mean the FDA's sunscreen usage guidelines don't apply—but more on that below.) It's a fact that most people don't apply enough sunscreen to get the protection stated on the bottle, so why not up the sun-protection ante and use a high-SPF formula?
Meet Anthelios Melt-In Milk SPF 100 for Face & Body, the newest member of the award-winning La Roche-Posay Anthelios sun protection family. Featuring the same fast-absorbing, residue-free formula as its SPF 60 sibling, this advanced sunscreen is the first of its kind to provide oxybenzone-free SPF 100 with Cell-Ox Shield Technology, which features antioxidants for added protection against environmental skin damage. But there's even more for you and your skin to love about this innovative sun-protection formula.
Safe for sensitive skin
Broad-spectrum protection against aging UVA and burning UVB rays
Water-resistant for up to 80 minutes
Fortified with Cell-Ox Shield technology for protection against free radicals generated by UV ray
Absorbs quickly without leaving a white cast
Can be used under makeup
Formulated with La Roche-Posay Thermal Spring Water for skin-soothing benefits
Oxybenzone-free, paraben-free, fragrance-free and oil-free
Suitable for children ages three and up
Now that you're familiar with Anthelios Melt-In Milk SPF 100 for Face & Body, here are a few reasons why you should use the maximum level of sun protection available.