Zents products contain only the purest ingredients in amazingly luxurious formulations. Organic Shea Butter, sustainably hand harvested, along with soothing, nourishing botanicals like Chamomile and Green Tea flood your skin with the healing powers of Mother Nature.
Everything Zents creates has always been and will always be about you. Whether you are blending your favorite aromas to create your very own signature scent, nourishing your skin with amazing Zents products, or restoring yourself with a Zents spa ritual, their line is meant to inspire you. They designed all of their exquisite fragrances to be blended and layered, so you can experiment and find the perfect combination for you.
Zents' approach to skincare. Zents creates effective skincare products with you in mind. With their variety of amazing scents and nourishing ingredients, you're sure to find products that can be easily incorporated into your lifestyle and beauty regimen. Zents focuses on healing, which is why all ingredients come from the environment. You won't find any harsh chemicals or artificial ingredients such as parabens, dyes or phthalates. Instead, you get chamomile, green tea, shea butter and other pure, natural ingredients.
Zents' responsibility to the environment. Zents has a personal responsibility to protect our environment. That's why their facilities run on wind energy and use soy ink on their boxes. They also buy locally whenever possible.
Zents also prides itself on giving back to others. They created a sustainable giving program called Seva that helps organizations in various communities. Zents believes that everyone has something to give and by working together, we can achieve great things.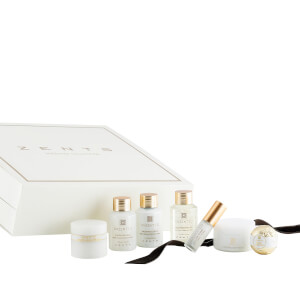 Zents Unzented Deluxe Gift Set