For skincare lovers that want high efficacy, multi-use products made with ethical values, look no further than the latest team favorite, BABOR. Here are the reasons why we love the brand, and how to get your hands on a few of its best-selling skin solutions.
Behind the Brand: BABOR
Founded by biochemist Dr. Michael Babor, the brand has created innovative solutions to skin concerns for over 60 years inside their in-house laboratories in Germany. From ideation to packaging, each and every product from BABOR is backed by science, precision, and high-quality ingredients. Here's a few hero products we love.
AMPOULE CONCENTRATES Collagen Concentrate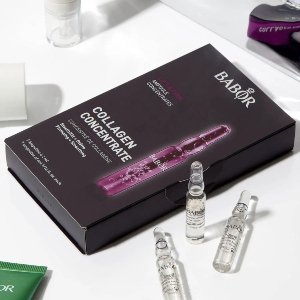 Ampoules are, in essence, single-use doses of highly concentrated serums that have targeted effects on the skin. Usually used during a professional facial or post-cosmetic treatment, these powerful remedies provide immediate, visible results.
BABOR's Collagen Concentrate plumps the skin from within, improving its tone, elasticity and firmness, and significantly reduces the appearance of fine lines and wrinkles, resulting in smoother skin after use.