Learn about one of the newest brands on site, Medik8!
About the Brand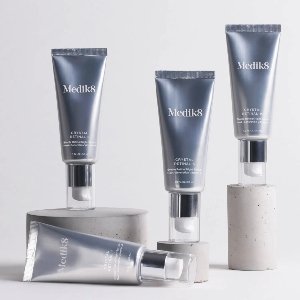 Medik8's ultimate mission is to help you achieve Beautiful Skin for Life.
As a cosmeceutical skincare brand, Medik8 uses only the best active ingredients in our formulations.
Within the scope of a cosmetic formulatory, the brand subjects these actives to a rigorous testing process before putting them anywhere near anyone's skin.
About the Founder
Elliot Isaacs studied physiology at the University of Leeds alongside pharmacology and biochemistry. After backpacking the globe, Elliot was inspired to create the world-renowned Medik8 cosmeceutical brand. He then built it up from a tiny lab in the back of his Dad's pharmacy.
A product of his time, a scientist having spent 5 years backpacking around the world, he also shared the natural movement's values of fair trade, sustainability and natural ingredients.
But his idea, unique at the time, was to combine this ethical backdrop with his experience in biochemistry to create results-driven products with proven science. Aimed at mature skin to maintain a more youthful complexion, his mission is to demystify anti-aging skincare with his philosophy of 'vitamin C plus sunscreen by day, and vitamin A by night'. There is, he believes, no reason to choose between results and experience.
Medik8's CSA Philosophy

Vitamin C
Well formulated, stabilized vitamin C provides all-important antioxidant protection as well as stimulating collagen production and blocking the development of pigment for smoother and brighter skin.
Apply vitamin C in the morning for an all-day urban shield against everyday environmental factors which can cause skin aging.