Traditional serums aren't the only way to give your skincare regimen a targeted boost—and an ampoule deserves a coveted spot in your routine as well. While both harness the power of skin-improving ingredients, an ampoule's packaging is intentionally different.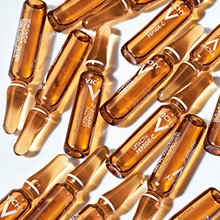 Unlike traditional serums housed in a bottle that you use for a month or more (exposing the product to oxygen over time), an ampoule contains a concentrated serum but comes in glass vials that are vacuum-sealed for the maximum efficacy and portioned in a daily dose so you know exactly how much to apply for optimal results. This prevents wasting any product—as well as skin irritation or other effects that can be caused by using too much.
These single skincare servings are often packaged purposefully to protect against potentially degrading oxygen, UV light and contamination, so you know you're getting the freshest, most potent product when you're ready to use it. An ampoule can be used daily, or as a skin-boosting treatment for a specific period of time before an event or just to rebalance your skin and get it back on track.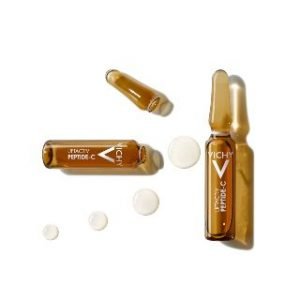 If you're not familiar with an ampoule, it's probably because these supercharged treatments were once available exclusively from prestige, spa-based brands. Always at the forefront of effective, accessible skincare innovation, Vichy has introduced their New LiftActiv Peptide-C Anti Aging Ampoule Serum. Formulated to target fine lines, wrinkles, loss of firmness and dullness as well as help your skin withstand environmental stress, this highly concentrated formula resurfaces skin texture and brightens the skin while reducing the appearance of wrinkles within a month—but you'll see results after the very first use.