We know how much you all long for fuller, thicker, voluminous hair, which is why many of us have been turning to dedicated hair brand Grow Gorgeous to give our follicles the boost they need.
We've seen the results of the excellent Grow Gorgeous Hair Density Serum – which gives fuller looking in hair in just 8 weeks – and are currently trialling the much raved about Hair Nutrients, which work from within. And now, we are super excited to reveal the new launch, designed to plump up skinny hair and give the illusion of bigger, fuller, more voluminous up hair!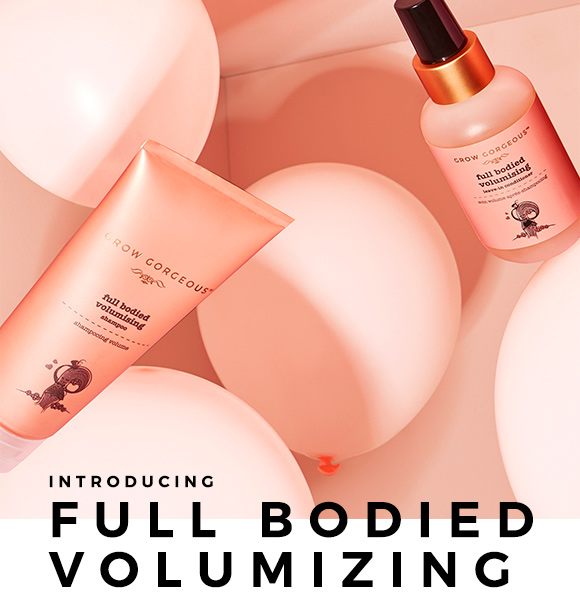 Introducing the new Grow Gorgeous Full Bodied range – a special collection of two powerful products set to give your hair a beauty-full boost: the Volumizing Shampoo and Leave-in Conditioner 
How do they work?
The Full Bodied Volumizing range works to plump up each individual hair strand for maximum volume. The serum based Leave-in Conditioner treats the hair with an air-light formula that doesn't weigh it down and gives hair a beautiful bouncy, soft texture. Plus they both have a special magic touch thanks to the unique formula infused with Pea Peptides.
With touch-to-style technology, give the roots and hair a rustle with fingers, to tease the hair into shape throughout the day and night – a healthy alternative to back combing!
The Ultimate Recipe For Fuller Looking Hair
For best results for achieving the fullest, thickest and volumized hair, you could use the Full Bodied range alongside Grow Gorgeous Scalp Detox to detoxify and cleanse the scalp which gives the best environment for your hair. This, followed by working in the Grow Gorgeous Hair Growth Serum Intense (used twice a day) is one of the ultimate ways to achieve visibly thicker and longer hair.
This regime is carefully put together to help those with hair that lacks volume and density, or is sluggish with growth and really needs a good boost.
The Magic Ingredients
A lot of people ask what ingredients go into the Grow Gorgeous collection, contributing to these fantastic formulas. Here's a summary of the key ingredients:
Pea Peptides – work to build up each strand of hair.
Amino Acids – bind to the hair cuticle for stronger, fuller and shinier hair.
Low and medium weight plant-derived proteins – conditions the hair fibre inside and out.
Feather-light active micro-emulsion – helps to repair and protect hair strands without adding weight or sacrificing volume.
How To Use:
For the shampoo: Wet hair thoroughly before applying a generous amount. Lather and massage from the scalp through to the ends and rinse.
For the leave-in conditioner: After washing your hair with Full Bodied Shampoo, do not condition hair and apply 3-5 pumps of the leave-in conditioner to towel-dried hair. Rub it well between both hands and smooth through the whole length of hair. Blow-dry and style hair as normal. Wash hands after use.
Have you tried any of the Grow Gorgeous products? Review your favourites on site to be in with a chance of winning a 6 month supply of your favorite Grow Gorgeous product.