Have you noticed a few more hairs flowing down the shower drain lately, and worry your hair may be thinning? Reminiscing of a time when you had a full head of hair may not be just a fond memory. Here's some helpful information that may help you better understand, treat and prevent hair loss.
Is My Hair Thinning or Am I Shedding?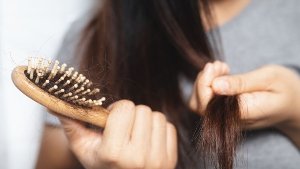 According to the Mayo Clinic, most people shed about 50 to 100 hairs a day.
There are close to 100,000 hairs on the scalp and the average hairs lost in a day should not be noticeable.
Along with the aging process, comes a natural thinning of the hair. The rate at which one loses their hair determines baldness. If you are shedding more hairs than the rate of re-growth or the new hairs are thinner or come out in patches, then you may be balding.
Why Is This Happening?
There are many causes for hair loss. However, most cases are male-and female-pattern baldness or androgenetic alopecia. This occurs when the time in between hair growth shortens and the hair is not as thick or strong.