If you're searching for baby shower gift ideas, then look no further. Our gift guide will ensure that your gift stands out from the rest of the cuddly toys, toys and baby grows and help the mother to be keep her skin in tip-top condition throughout her pregnancy with Mama Mio.
Mama Mio Baby Shower Gift Ideas
Mama Mio have an extensive collection of skincare products for the Mama-to-be. All of their products contain 'no nasties' and are 100% safe to use during pregnancy, making them the perfect gift for a baby shower.
Mama Mio's expert blends contain all-natural ingredients which work to deliver truly incredible results to help pregnant women to feel amazing in their pregnancy body.
The Tummy Rub Butter is Mama Mio's bestselling product. The award-winning formula works to drastically improve the elasticity of the skin, helping to prevent stretch marks as the baby is growing.
The expert blend contains omega-rich organic oils, including Argan, Coconut and Avocado and SheaButter. The antioxidant and vitamin E-rich butter intensely moisturizes the skin, while the blend of Omega 3, 6 and 9 help to strengthen the skin and improve elasticity.
Trimester Bundles
If you're looking for the ultimate baby shower gift, then look no further than Mama Mio's TrimesterBundles. Each bundle combines a trio of Mama Mio's most effective products for each trimester, designed to nourish the skin and help it to adapt to the changes which occur during pregnancy.
The Tummy Rub Butter
Megamama
Gorgeous Glow Facial Wash
The Tummy Rub Oil
Pregnancy Boob Tube
Gorgeous Glow Facial Wash
Lucky Legs
Pregnancy Boob Tube
The Tummy Rub Butter
The Pregnancy Essentials Kit is the ultimate baby shower gift idea. The gorgeous kit contains four of the brand's bestselling products to help the Mama-To-Be keep her skin in optimum condition throughout her pregnancy.
The set contains:
The Tummy Rub Butter
Gorgeous Glow Facial Wash
Pregnancy Boob Tube Bust Cream
Lucky Legs Cooling Leg Gel
Mama Mio Push Pack
Help your friend prepare for the big day with the Mama Mio Push Pack. The trio of labor room essentials have been specifically picked and packed to help expectant mothers to feel calm, relaxed and organized on the big day. The gorgeous trio are housed in a handy wash bag so that they're ready for the Mama to grab and go when the big day arrives.
The set contains:
Superstar in a Jar Multi-Balm
Way To Glow Facial Spritz
Pick Mama Up Massage Oil
Soft Cotton Organic Flannel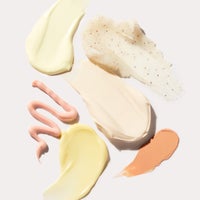 Our team of beauty experts cover everything from skincare to makeup, picking out the most effective products from the best brands and latest trends. Stay up to date on everything beauty with the SkinStore blog, and find all your essentials in one place.