For the brides to be, there's a bunch of checklists and regimens that are on your mind such as wedding planning, wedding workouts, and finalizing that seating table. But here's a regimen that's both fun and important: your wedding beauty routine! As a bride-to-be, you'll want to have a flawless face free of dry skin, blemishes, and other skin impurities. 
Plus, wedding photos are some of the most shared photos you'll be showcasing in your life. For physical and digital infamy, you want to put your best face forward! Here's how to prep your skin to be wedding day ready with s specialized beauty routine!
Schedule at Least One Appointment to Access Your Skin
If you really want to get your skin in top form, it's recommended that you start a smart bridal/wedding skincare routine for glowing skin about a year in advance. Even with a makeup artist on retainer, a fresh, radiant skin base is ideal for your perfect big-day glow. 
Access your skin with a professional, such as an esthetician, to achieve your bridal skin goals. If you have sensitive skin or a skin disorder such as psoriasis or eczema, it's better to add a dermatologist to the list of people you need to see.
Editor's Note: What's the difference between a dermatologist and an esthetician? A dermatologist is best suited for the mentioned above skin disorder treatments, surgery to remove warts or cysts, and other skin health concerns. An esthetician is best suited for topical skincare concerns, such as an ideal routine based on skin type, chemical peels, and treatments that improve your skin's appearance. 
Have a Dedicated Daytime & Nighttime Beauty Routine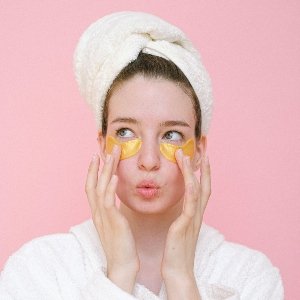 After your visit to the doctor and/or esthetician, now is the time to create and stick to your wedding beauty routine. Having the right 5, 6, 7, or more step beauty regimen will have your skin looking and feeling its best during the planning process. 
Find the perfect product and routine assortment and arrangement from cleanser to serums, like the Elemis Pro Collagen Cleansing Balm and the Decorté Liposome Moisture Serum, to fast track your skin to being wedding-ready.