One of our best-selling products at SkinStore is the SkinCeuticals Triple Lipid Restore 2:4:2. However, some people look at it as a moisturizer, whilst others make the assumption it's purely a treatment. As January and February is all about our beauty discoveries, advising the best ways to use the most effective products, we've invited SkinCeuticals on board to tell us everything there is to know about this incredible skincare product.
Your Skin and Lipids
Healthy, youthful skin has an abundance of lipids. These natural fats help maintain the strength of the skin's protective barrier and allow the skin to effectively self-repair. Three main lipids have been found to be crucial for the function and appearance of the skin.
Ceramides:

This type of lipid is responsible for nourishing the skin and promoting optimal skin barrier function.

Cholesterol:

Different than the cholesterol found in the blood, this lipid helps accelerate the skin barrier's recovery and maintain the elasticity of skin.

Fatty acids:

Abundant in young, healthy skin, fatty acids are essential for the natural production of other lipids.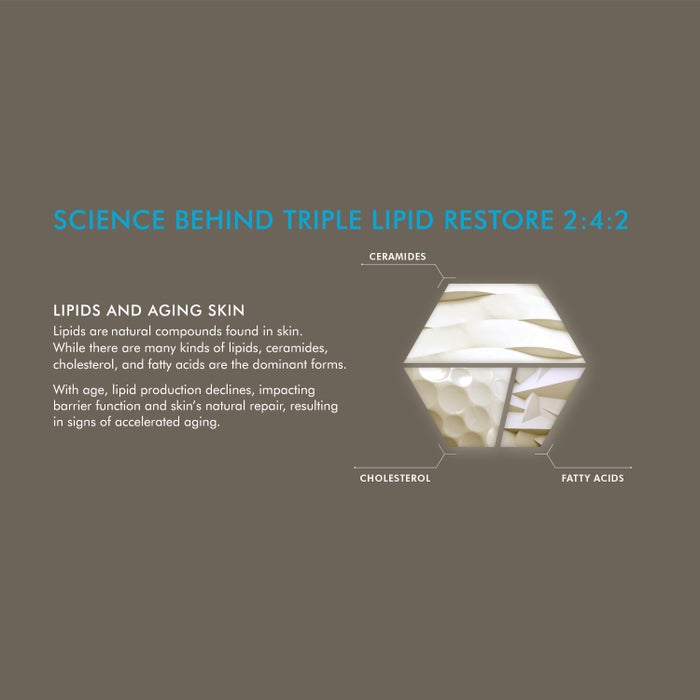 Over time, lipid production declines. The loss of these lipids impairs the skin's ability to perform its natural functions and compromises the skin's natural protective barrier, in turn accelerating the aging process. This can ultimately lead to fine lines and wrinkles, dryness, tightness, rough surface texture, and lack of radiance.
Skin Treatment
Studies have shown that the ideal topical treatment for improving the effects of lipid loss in aging skin should contain a 1:2:1 concentration ratio of ceramides, cholesterol, and fatty acids. With 2% pure ceramides, 4% natural cholesterol, and 2% omega fatty acids, Triple Lipid Restore 2:4:2 is formulated with a maximized concentration of lipids in this ratio.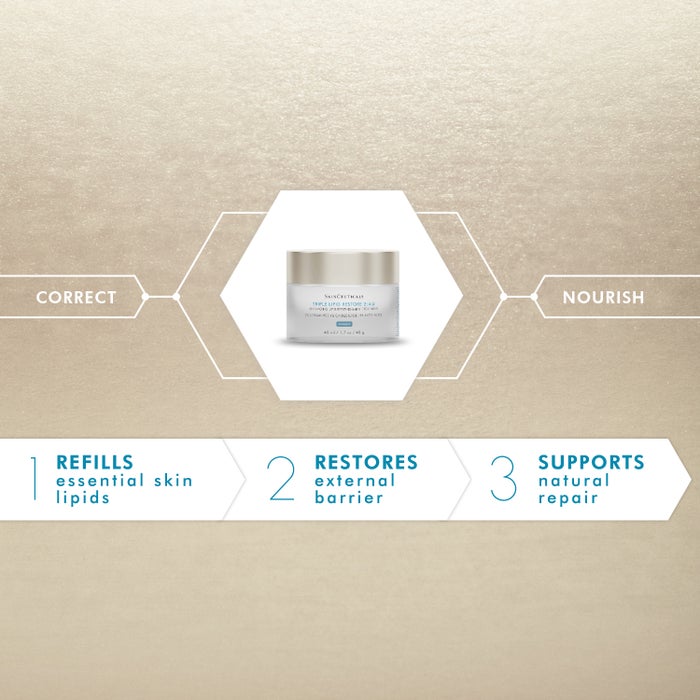 How does Triple Lipd Restore 2:4:2 work?
Triple Lipid Restore 2:4:2 works to restore the skin's barrier, support the natural self-repair process, and nourish the skin to improve signs of aging. A rich, emollient cream, Triple Lipid Restore 2:4:2 absorbs quickly without greasiness or feeling heavy, and helps improve the appearance of fullness and radiance while restoring the smoothness, suppleness, and comfort associated with youthful skin.
This groundbreaking treatment's effects are optimized when used as part of a comprehensive homecare regimen. The recommended SkinCeuticals regimen for anti-aging lipid replenishment and skin nourishment includes:
C E Ferulic:

Triple Lipid Restore 2:4:2:

Physical Fusion UV Defense SPF 50: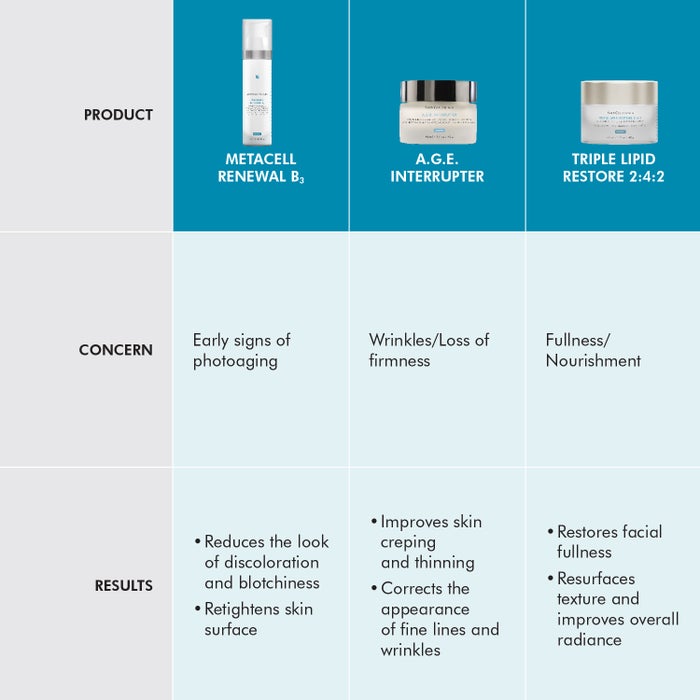 Together, this powerful combination of products helps further skin changes, existing visible signs of aging, and improve the effects of age-related lipid loss.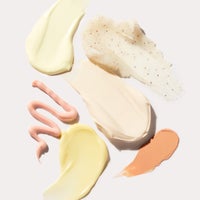 Our team of beauty experts cover everything from skincare to makeup, picking out the most effective products from the best brands and latest trends. Stay up to date on everything beauty with the SkinStore blog, and find all your essentials in one place.