We all go into summer expecting fresh-faced radiance and sun-kissed shimmer, but the reality might look a lot more like oily skin. Luckily, there are plenty of ways to keep your skin looking and feeling free from grease.
Read on to find out answers to all your burning questions about how to manage oily skin in the summer.
Why is My Skin Oily in the Summer?
Oily skin is a common complaint in balmy weather. Rising temperatures and high humidity can cause sebaceous glands in the skin to go into overdrive, producing oil at increased rates—the result is greasy complexions with too much shine.
How Can I Control My Oily Skin Naturally?
It may seem counterintuitive, but hear us out. Ensuring to moisturize and pay attention to hydration actually causes oil levels to taper off, as oil is often overproduced in response to dryness. So drink plenty of water, load up on fruits and veggies, and limit your intake of alcohol and spicy foods.
You can also try natural remedies with ingredients you probably already have in your pantry. Honey, lemons, egg whites, oatmeal, and almonds can all be easily made into a paste and applied to the face. Or, try quenching your complexion with aloe vera, jojoba oil, and healing clay.
How to Get Rid of Oily Skin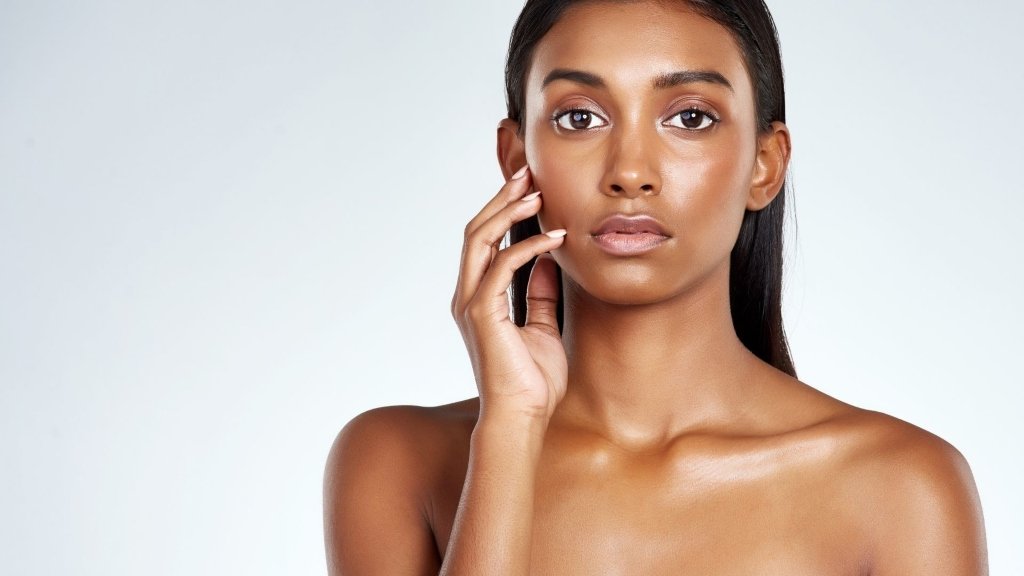 Caring for your skin doesn't mean you have to give up on summer style. These makeup and skincare tips and tricks help beat the grease and boost beauty.
Look for lightweight formulas
Conventional foundations can sit heavy on the face, clogging up pores and causing them to produce even more oil. Switch them out for tinted moisturizers or mineral powder foundations that get you coverage and comfort. And try swapping night creams for lotions or hydrating serums to lighten the load overnight.
Slather on plenty of sunscreens
Sunscreen might not seem so appealing if you're feeling plenty oily already, but it's great for fighting unwanted shine as well as damaging runways. Oily skin types are best off with non-comedogenic or oil-free formulas. Gel and powder sunscreens, especially with denatured alcohol or oil-absorbing micronized zinc, are ideal for keeping skin matte. For the best protection from UVA and UVB rays, choose a broad-spectrum sunscreen.
Cleanse and exfoliate the smart way
Don't give in to the urge to over-cleanse or over-exfoliate. Too much of either, and you could trigger further oil production and even scar your skin. Cleansing twice a day and exfoliating two or three times per week is sufficient. Use a cleanser formulated salicylic acid or glycolic acid to sweep away oil from the pores. Keep skin fresh and bright with a light chemical exfoliator, and look for alpha hydroxy acid and sulfur ingredients.
Make sure to moisturize
Keep your skin hydrated in warm weather to avoid excess oil production. An oil-free moisturizer keeps things mess-free, and a refreshing facial mist or toner will keep you cool and calm throughout the day.
Which Products Are Best for Oily Skin in Summer
Below, check out a curated list of our favorite products that are kind towards oily complexions.
1. Dr Dennis Gross Hylarounic Marine Moisture Cushion
2. EltaMD EltaMD Foaming Facial Cleanser
3. Medik8 Medik8 Advanced Night Ceramide Cream
4. Bloomeffects Bloomeffects Tulip Nectar Skin Repair