Are you naturally prone to dry skin? Or do you not yet have an effective exfoliating routine to leave your face bright and free of crusty bits? Removing that outer layer of excess dead skin on the face can help provide the natural glow you're looking for. While dead skin isn't necessarily a problem, you'll still want to use the right tools and techniques to keep this less appealing skin condition at bay.
Want to know how to get rid of dead skin on the face, or wondering what causes dry skin in the first place? Read on for our top product recommendations to handle dry, dead skin on the face, as well as what causes dead skin and how you can tackle it effectively with a great skincare routine. Check it out now:
What causes dead skin on your face?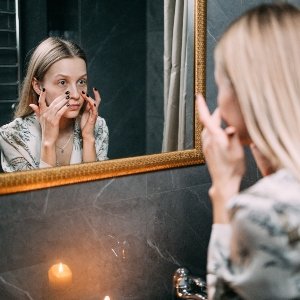 Dead skin is a natural part of human life. We all shed our skin cells over time, and as the largest organ our body has, our skin is constantly replenishing and renewing itself. So, it's no surprise that your skin produces dead skin cells every day, just like everywhere else on your body. You can't prevent dead skin from happening, but you can create a skincare routine to ensure those cells aren't hanging around after they are no longer helpful.
Dead skin problems tend to happen when those cells stick around instead of falling off your face and body as they usually would.
This can lead to flaky, dry-looking skin that is difficult to apply makeup over and can even become sore if left for too long. It's essential to have a routine to remove dead skin as soon as it appears if this is an issue you find yourself struggling with day-to-day.
How can you remove dead skin on the face?
With a good skincare routine, you can easily remove dead skin with minimal fuss. A combination of exfoliation and good moisturizing products can help slough off dead skin and ensure the fresh, new skin underneath is happy and hydrated – preventing additional dry, dead skin issues in the future. Everyone's skin is different, but our wide range of products means there's something to suit your specific needs while effectively removing all that dead skin from your face.
Want to remove dry, dead skin on your face? Here are our top five products to leave your face looking and feeling better than ever:
Top 5 Exfoliating Products
2. SkinCeuticals Simply Clean Cleanser
3. StriVectin Daily Reveal Exfoliating Pads
4. Q+A Apple AHA Exfoliating Gel
5. Spa Sciences SIMA Sonic Facial Exfoliation And Hair Removal System