When we launched a daily cream with an $850 price tag attached, I raised an eyebrow. Is this 'crème' made from gold?
Well yes, actually. Gold has been a classic ingredient in luxury skincare for centuries. Cleopatra would sleep with gold applied on her face and in ancient India, Ayurvedic treatments would make use of gold for healing treatments. It's the centrepiece of Rodial's Bee Venom and Placenta 24 Carat Gold Ultimate Crème, alongside nature's botox: bee venom, which tricks the skin into thinking it has been lightly stung, thus causing the body to direct blood towards the area and stimulate the production of collagen and elastin.
Following the success of Rodial's hit Bee Venom Moisturizer, the cutting-edge, London-based beauty brand wanted to offer an even more premium experience for customers, with even more efficacious results. Cue Rodial's Bee Venom and Placenta 24 Carat Gold Ultimate Crème, the most luxurious daily cream engineered with Rodial's most extreme concentration of anti-ageing complexes, in a silicone-free formula.
It turns out the price is justified. Not only is the concentrated formula packed with numerous premium quality active ingredients, including 24 carat gold, but it also comes in a luxury coffret box to enhance your experience. It is the ultimate anti-ageing cream.
The Ingredient Story
I quizzed Rodial's Head of New Product Development, Melanie Khoury, on the ingredients and she explained that as a member of Rodial's Bee Venom product family, the crème is powered by the range's key ingredients for intense anti-wrinkle efficiency: that bee venom we talked about, vitamin C, botanic stem cells, hyaluronic acid and juvinity.
From the start, gold stood out to us as the obvious luxury ingredient. Following intensive research, we innovatively combined pure natural 24 carat gold, liquid gold and colloidal gold with incredible cell rejuvenation and anti-wrinkle properties. Golden speckles also provide an immediate radiance boost."
In recent years you may have seen Hollywood's finest playing show and tell with placenta facials. Rodial took the best part of that facial, the biomimetic growth factors, and put it in a jar.
"Bio-mimetic growth factor technology was starting to be well known for its incredible benefits on skin and the most natural source comes from placental extract, which ensures these bio-mimetic growth factors are provided to the skin in a way the body understands," Khoury explains. "The body's balance is maintained and skin is revitalised."
Desert-island Product
When I asked Khoury if the crème is a desert island product, she said:
"If your island has a 5* hotel I would definitely recommend indulging in a Bee Venom and Placenta 24 Carat Gold Ultimate Crème facial!"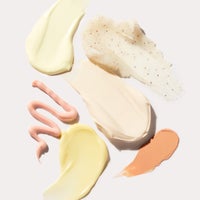 Our team of beauty experts cover everything from skincare to makeup, picking out the most effective products from the best brands and latest trends. Stay up to date on everything beauty with the SkinStore blog, and find all your essentials in one place.