Here at SkinStore we consider ourselves fanatics when it comes to skincare. Great skin is not just about genetics, but our daily habits. In fact, our skincare routine has a large impact on how we look.  But with so many product reviews and opinions, when it comes to our skin care routine, it's hard to know what to do or how to do it.
Our survey revealed:

Women use an average of 16 skin care and cosmetic products every day.
Over 85% of women surveyed said they apply a minimum of 16 products a day to their face, before they leave the house. This is a combination of skincare and cosmetics, starting from the facial cleansers they use in the morning, to blusher.
That's why we created the ultimate skincare routine guide to remove the guesswork from your skincare routine order.  We reached out to just over 3,000 women between the age of 16-75 to gain further insight on their skin care routines, including the cost of the products they apply each day.  
Know your skin type
The right skin care routine starts with knowing your skin type.  Skin care products that are one size fits all rarely work, and it's because your skin needs tailored products and solutions based on your skin type.  Do you have dry, oily, combination, or sensitive skin? 
Once you've figured out your skin type, you can also use our "Build Your Routine" section to customize your skin needs and add to your cart!
The Best Order for Skin Care Products
The main goal in our skin care routine comes down to a few simple things.  Keeping our skin looking and feeling its best, preventing further damage to our skin, help repair past superficial damage to our skin, and minimizing irritation to the skin.  It's about creating a strong foundation for your basic skincare routine.
Below is a brief summary of how to build the ultimate skincare routine.  Read further for more details.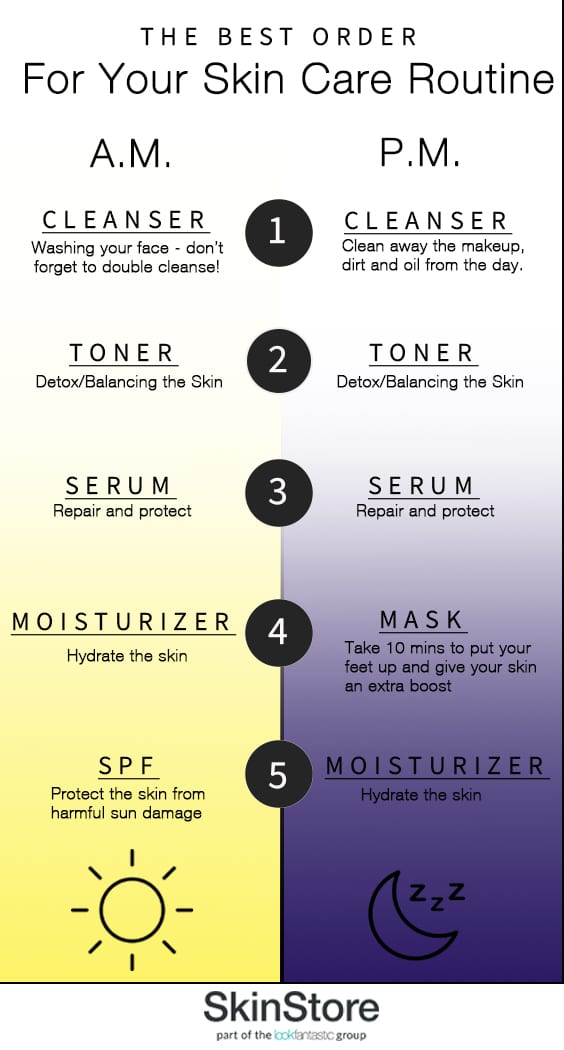 The Ultimate Skin Care Routine: Step By Step
Step 1: Cleansing
Let's talk about why facial cleansing is so important for a morning skincare routine, and night.
Our survey results found that facial cleansing is the most popular first step of a woman's daily skincare routine. Turns out regular cleansing is key to maintaining healthy looking and feeling skin. Women's regimes are faster than ever, with the average woman spending just under 10 minutes on morning cleansing.
A common benefit of facial cleansing is removing oil, dirt, and other unwanted elements on our face.  In addition, cleansing helps boost hydration. Regular facial cleansing is an important factor in maintaining proper hydration on the face.  
Excessive dirt buildup on the surface of the skin can cause blockages of the pores, which allows bacteria to penetrate causing inflammation, which in turn can cause acne. For best results: cleanse morning, night and after exercising.  
What is cleansing?
To make a long story short,  cleansers are created to clean our skin.  Cleansers are products we use to remove build up of dirt, makeup, oils, dead skin cells and more!  The main focus is to clean our skin without stripping the necessary layers of skin. Generally cleansers are more moisturizing and hydrating than typical face washes.  
How often to cleanse?
The verdict is still out as to the exact time and frequency to cleanse.  Generally shoot for cleansing once in the morning and once during your nighttime skincare routine. Cleanse your face after a workout to prevent acne breakouts and clogged pores. Pay attention to your skin as excessive cleansing can lead to skin irritation.
How to cleanse?
Identify what kind of skin type you have (see info above to identify your skin type).  Knowing whether your skin is dry, oily, or normal will help discover what type of product works best for you.
Look at product directions to better understand proper application of cleanser, as products can vary in application.  After applying product and rinsing, pat your skin dry with a clean towel.
How to Choose a Cleanser?
Below is a list of some of the markets best cleansers based on skin type:
Best Cleanser Based on Skin Type
Dry Skin: Erno Laszlo Hydra-Therapy Foaming Cleanse
Oily Skin: Epionce Lytic Gel Cleanser
Normal/Combination Skin: Eve Lom Cleanser
Sensitive Skin: SkinCeuticals Gentle Cleanser
Step 2: Toner
60% of women are adding a toning step after cleansing.  The average woman will spend around $23 on a facial toner.  
A skin toner's effectiveness can vary from product to product, but they generally enhance the skin's surface by unclogging pores, helping add essential ingredients, hydrating the skin and providing additional cleansing.
What is a toner?
After cleansing and removing unwanted elements or makeup on your face, toners provide a healthy layer to better absorb the rest of your skincare products.  Think of toners as providing additional nutrients to the skin. Toners are sometimes thought of as optional, but can be a good way for added replenishment to your skin.
When to apply toner?
A toner should be applied after your facial cleanse. Cleanse your face first to remove any unwanted elements or makeup.  Rinse well, then dry your face with a clean towel. Finally apply a toner.
How to apply toner
Applying the toner can vary depending on the product.  See product to look for specific instructions. Generally toners can be applied with a soft pad or cotton ball.  Soak the pad or cotton ball with toner to insure it is damp, but not soaking wet.
Gently spread the toner on your face and neck using the pad or cotton ball.  Avoid the eye area and lips. Pay special attention to the hard to reach areas such as the eye brows, hairline and sides of nose.
How to pick a toner?
Below is a list of some of the markets best toners based on skin type:
Best Toner Based on Skin Type
Dry Skin: Arcona Cranberry Toner
Oily Skin: PCA Skin Smoothing Toner
Normal/Combination Skin: Pixi Glow Tonic
Sensitive Skin: La Roche-Posay Effaclar Clarifying Lotion
Step 3: Serums
Let's talk about benefits of serums.
This step is one of the biggest growths in the U.S beauty market, women are prepared to spend over $45 on this correction product.  Serums are typically used for those that are looking to go the extra mile to repair and protect to get a younger, healthier looking skin.
What is a serum?
A serum is known for its ability to penetrate deeper into the skin layers. Adding to the skin care routine the ability to deliver powerful ingredients directly to the skin. This makes serum a great tool for treating specific skin concerns.
When to apply serum?
Look at the product description for instructions as they can vary from product to product..  Typically serums are applied after toners, just before a moisturizer or SPF.
How to apply serum?
Serum application may vary by product, see product instructions for details.   Serum can be applied with your fingers, patting it on and smoothing it out. Ensure coverage of your entire face, while allowing the serum to absorb into your skin.
Below is a list of some of the markets best serums based on skin type:
Best Serum Based on Skin Type
Dry Skin: SkinMedica HA5
Oily Skin: Caudalie Vinopure Skin Perfecting Serum
Normal/Combination Skin: Perricone MD Face Firming Serum
Step 4: Moisturizer  
Our survey found that Moisturizers are classified as the most essential skincare product, women are willing to spend just over $50 for the right moisturizing cream.  
What is a Moisturizer?
The main purpose of moisturizer is to hydrate the skin and leave your skin feeling soft to the touch.  Moisturizers can sometimes have an SPF, which helps protect from the sun.
When to apply moisturizer?
A moisturizer can be applied in the morning or night. A moisturizer application should be applied as the last step before makeup is applied.   Apply the moisturizer just after the serum, before makeup application.
For nighttime application, apply moisturizer as the last step before going to bed.  Application should be after the serum. If a serum or toner is not being applied, apply moisturizer after cleansing your face.
How to apply moisturizer?
See product for the amount of moisturizer to apply, as this can vary depending on product consistency.  Use fingers to dab moisturizer in key areas on the face such as forehead, nose, chin, cheeks and neck.
Begin spreading the moisturizer into skin using a swirling motion until the moisturizer is absorbed into your skin.  Wait for the moisturizer to dry before applying makeup.
How to pick a moisturizer?
Below is a list of some of the markets best moisturizers based on skin type:
Best Moisturizer Based on Skin Type
Dry Skin: Obagi Hydrate Luxe
Oily Skin: Juice Beauty SPF 30 Oil-Free Moisturizer
Normal/Combination Skin: SkinMedica Rejuvenative Moisturizer
Sensitive Skin: First Aid Beauty Ultra Repair Cream
Busy schedules are common these days, women have less time than ever before, and that includes before going to bed. American women take just 6 minutes to completely take off their daily face and perform their evening beauty rituals.
Difference between day and night cream
Day creams are most often lighter creams that apply well under makeup, protect from pollutants, and sometimes contain SPF.  
Night creams most often have a heavier texture to provide a deeper moisturizing to the skin.  In addition night moisturizers contain ingredients like retinol that promotes skin cell turnover.  Whereas ingredients like retinol usually are not seen in day creams as it can irritate the skin when exposed to the sun.
What is an eye cream
89% of women claim to use an eye cream every morning and evening.  One of the most common areas for fine lines and wrinkles is under the eyes.  Fine lines and wrinkles in the eye area can come from sun damage, lack of sleep, dehydration and more.
Eye creams can help moisturize, hydrate, brighten, firm and tighten, and provided needed antioxidants the eye area.  If you have fine lines, wrinkles, or puffiness under your eyes, it may be a good idea to use an eye cream.
Step 5: Sunscreen
"70% are now using serums, SPF's, toners, primers, and highlighters to enhance their skin – a growing beauty step which has become essential within the last couple of years."
No sunscreen, what's the big deal?  This is a common notion as to why people should wear sunscreen. Here are a few reasons why everyone should wear sunscreen
It helps prevent Fine lines and wrinkles

It helps prevent skin discoloration

Skin cancer is rising and sunscreen has been proven to decrease the development of skin cancer
Below is a list of some of the markets best protectors:
SPF: Elta MD UV Clear Tinted Broad-Spectrum SPF 46
Pollution: REN Evercalm Global Protection Day Cream
Blue-light: SkinMedica Lumivive System  
Antioxidant: SkinCeuticals C E Ferulic