Consider yourself fortunate if you're one of the lucky few genetically blessed with perfect, clear, glowy skin. Even with good skin genes, following a proper skincare routine is critical for skin care success. Without one, the skin may lack essential nutrients, vitamins and even basic steps of skin health to keep it looking its best and aging gracefully. But with so many different types of skincare products available today, knowing what a good skincare routine should consist of can be daunting. 
A well-rounded skincare routine doesn't need to consist of a slew of unnecessary steps or products but rather be thought out and devised to cater to your skin and its specific needs. Naturally, your skin type and concerns should influence your skincare products. What works for one type of skin may not be the best plan for another. And, to make the most of the best skincare routine for your skin and reap the benefits applying your products in order of lightest and thinnest to thickest is a surefire way to guarantee that they'll penetrate efficiently. 
So, no matter how basic or complex of a skincare routine you ultimately opt for, these are the essential steps that your routine should comprise. 
Table of Contents:
Know Your Skin Type and Identify Any Skin Concerns
Knowing your skin type is essential to make the most of a skin care routine. Not all skin types are the same, and using the wrong products and ingredients can wreak havoc on the skin.
You can perform a simple bare-faced test to determine whether your skin is normal, oily, dry, combination, or sensitive. First, wash your face with a gentle cleanser and pat it dry. Then, after 30 minutes, visually assess the skin or blot it with a blotting paper and see how it appears.
Normal skin won't display any oiliness, dryness or red patches.
Dry skin will likely feel tight or dry and may even have dry, flaky skin areas. It may also look like it is dehydrated and thirsty.
Oily skin appears shiny and slick with an oil residue on the skin, particularly the T-zone.
Combination skin is a little bit dry and a little bit oily.
Sensitive skin is red, itchy, inflamed, and temperamental.
Once you've determined your skin type, it's time to pinpoint your skin's most pressing concerns. For example, aging skin likely needs a bump in collagen and hydration, whereas acneic skin requires more mattifying ingredients and those that break up oil while clearing up pimples. On the other hand, skin that's affected by hyperpigmentation benefits from brightening ingredients and exfoliators to lighten the discoloration. By recognizing your skin's concerns, you can dial in the products and ingredients to build a skincare routine that best addresses the issues.
Once you've figured out your skin type, you can also use build your own routine to customize your skin needs and easily add to your cart.
The Best Order for Skincare Products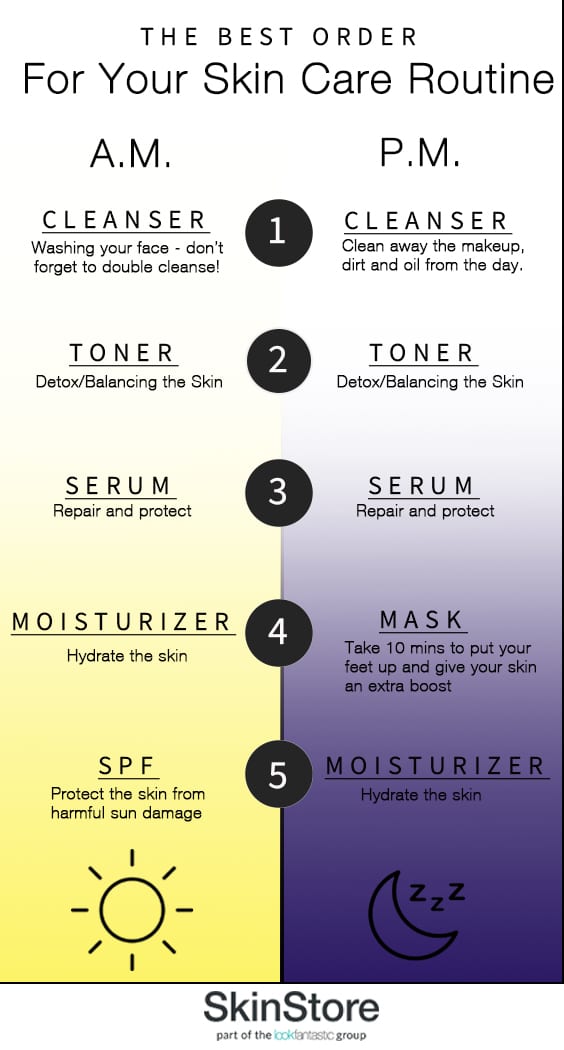 The main goal in a skin care routine comes down to a few simple things. Keeping your skin looking and feeling its best, preventing further damage to our skin, help repair past superficial damage to our skin, and minimizing irritation to the skin.  It's about creating a strong foundation for your basic skincare routine.
Below is a brief summary of how to build the ultimate skincare routine. Read further for more details.
The Ultimate Skin Care Routine: Step By Step
Cleanse: The First Step 
The first step in any skin care routine should always start with cleansing. Regular cleansing removes dirt, oil, makeup, and sunscreen and sets the stage for what the skin will receive, in terms of products, next. While most skin types benefit from morning and evening cleansing, those with dry skin may find a two-times-per-day face-washing routine a bit harsh. In that case, you can tailor how frequently you wash your face based on its needs, but never skip your evening cleanse to remove the day and everything the skin encounters throughout the day. 
Choosing a skin-friendly cleanser is of extreme importance. Washing the skin with the wrong cleanser can cause a disruption of oil and moisturize and even leave the skin feeling tight or itchy. Gentle, hydrating cleansers with minimal ingredients are always a safe bet since almost every skin type can safely handle them. From there, if necessary, you can select a cleanser that further targets specific skin conditions like dryness, breakouts or even discoloration. Just make sure that the cleanser you ultimately settle on is not drying, strips the skin of its natural oils or compromises the skin's protective barrier.
Best Cleanser Based on Skin Type
For Normal/Combination Skin: Eve Lom Cleanser
For Sensitive Skin: SkinCeuticals Gentle Cleanser
For Dry Skin: EltaMD Foaming Facial Cleanser
For Oily Skin: Epionce Lytic Gel Cleanser
Exfoliate: A Weekly Treat  
There's no denying the power of a good exfoliator used once or twice weekly. With age, the rate at which the skin naturally sheds dead skin cells begins to slow down, which is where an exfoliator comes into play to assist in removing dead skin cells and keeping the pores clear and free of anything that can clog them. By removing dead skin cells, the skin will appear refreshed, smooth and with a natural glow since it can better reflect light. 
Not all exfoliators are created equally; different types have different functions and benefits for different skin types and concerns. For example, mechanical or physical exfoliators, which work well for dry and sensitive skin, are face scrubs, cleansing brushes and even washcloths, which lift away dead skin cells with particles, such as salt and sugar, and friction. On the other hand, chemical exfoliators, like facial peels, rely on exfoliating acids such as alpha hydroxy acids (AHAs) or beta hydroxy acids (BHAs) to loosen the 'glue' that holds dead skin cells onto the skin's surface. Because these exfoliators also contain ingredients that clear up blemishes, they are a good option for acne, pigmented and even mature skin. Finally, combination exfoliators are a mix of chemical and physical exfoliants that benefit oily skin. 
The type of exfoliator you choose to include in your skin care routine steps will dictate how many times per week you can safely use it. Once or twice per week usually suffices in the exfoliation department.  
Best Exfoliator Based on Skin Type
For Normal/Combination Skin: PCA SKIN Daily Exfoliant
For Sensitive Skin: Elemis Papaya Enzyme Peel
For Dry Skin: SkinCeuticals MicroExfoliating Cleanser
For Oily Skin: Neostrata Clarify Exfoliating Mask for Blemish-Prone Skin
Tone: Balance the Skin 
After cleansing the skin thoroughly, it's time to apply a liquid toner. The purpose of a toner is to help balance the skin and its pH levels so that the skin's pH levels are at an optimal state and add back hydration to the skin, too. Plus, a skin-appropriate toner can help other products in your skincare routine to properly absorb. The order of your skin care routine should always consist of using a toner directly after cleansing. 
You can apply a toner with your fingers, a cotton round or even spray it onto the skin. For toner to work its magic and balance out the skin's pH levels, making it harder for bacteria to live on the skin, the toner must fully immerse into the skin, so you may need to wait a few minutes between applying a toner and moving onto the following skin care routine steps. Most of today's toners are alcohol-free (make sure to read the ingredient list!), and instead of stripping the skin of its natural oils and having a drying, astringent-like effect, they help to nourish the skin and leave it with a natural glow. Look for toners with alpha and beta hydroxy acids, hyaluronic acid, green tea, and vitamins C and E to support the skin and hydrate it. 
Best Toner Based on Skin Type
For Normal/Combination Skin: PIXI Glow Tonic Glycolic Acid Toner
For Sensitive Skin: Avène Gentle Toner
For Dry Skin: ARCONA Cranberry Toner
For Oily Skin: PCA SKIN Smoothing Toner
Apply a Serum: Target Specific Concerns  
Skincare serums, which you can use both morning and night, are a critical component you'll want to consider when building your skincare routine. These skin-specific products treat and protect the skin while delivering powerful active ingredients to target many skin issues ranging from dark spots and fine lines to hyperpigmentation and pollution damage. You can even layer different serums onto the skin as part of your skincare routine to address multiple concerns. 
Many serums contain supercharged active ingredients such as antioxidants like vitamin C, essential for protecting against free radicals and environmental damage. Other popular ingredients in serums include hyaluronic acid for combatting dry, dull skin and adding a plumping effect, peptides to increase skin firmness and stimulate new collagen, retinoids for an anti-aging and skin-smoothing effect, and niacinamide, which helps quell inflammation, redness, and breakouts and brighten and even out the skin. If your serum is water-based, apply it first before a moisturizer; if it's oil-based, layer it over your regular moisturizer.   
You don't have to have a specific skincare issue to make a serum a step in your skincare routine (when that's the case, stick with an antioxidant-rich protective one to help limit premature aging). Since serums are chock-full of powerful, skin-friendly ingredients, all skin types benefit from them.  
Best Serum Based on Skin Type
For Normal/Combination Skin: Perricone MD Face Firming Serum
For Sensitive Skin: Neostrata Restore Bionic Face Serum for Sensitive Skin with PHAs
For Dry Skin: SkinMedica HA5 Rejuvenating Hydrator
For Oily Skin: SkinCeuticals Silymarin CF Serum
Moisturize: Lock in Hydration  
All skin types, even oily complexions, need moisture in some form. The basic principle behind any moisturizer, no matter how light or rich it is, is to rehydrate the skin and soften it by preventing water loss. Using a skin-appropriate moisturizer morning and night is essential to keep the skin well-hydrated, plump and protected, especially since the skin loses its natural ability to retain moisture with age.  
For many skin types, a non-comedogenic, oil- and fragrance-free moisturizer will do the job, but you can also apply a moisturizer with additional ingredients that target a specific skin need. Powerful moisturizer ingredients include ceramides, which create a strong skin barrier, and hyaluronic acid to plump and rehydrate the skin. Dry, more mature skin may naturally gravitate towards heavier moisturizers with occlusives and emollients, while oily and acne skin types usually prefer to quick-to-absorb lightweight lotions and gels. 
Best Moisturizer Based on Skin Type
For Normal/Combination Skin: SkinMedica Rejuvenative Moisturizer
For Sensitive Skin: First Aid Beauty Ultra Repair Cream
For Dry Skin: Obagi Medical Hydrate Luxe
For Oily Skin: Juice Beauty SPF 30 Oil Free Moisturizer
Busy schedules are common these days, women have less time than ever before, and that includes before going to bed. American women take just 6 minutes to completely take off their daily face and perform their evening beauty rituals.
Layer on Eye Cream: Gentle Care 
While you may be tempted to apply your moisturizer under your eyes, don't. The skin on and around the eyes is thin and extremely delicate and easily irritated and calls for different textures and ingredients than a face moisturizer—plus, eye creams are formulated to address specific eye-related concerns like puffiness, fine lines, dark circles and undereye bags and a lack of skin firmness.  
Eye creams that contain vitamin C and K and niacinamide will help with dark circles, which are due to visible veins and blood pooling, while those with caffeine can help take down puffiness (store it in the fridge for an extra dose of anti-puffing action). If fine lines and wrinkles or thin saggy skin are more of a problem, consider eye creams containing retinol and peptides that will help strengthen the skin via collagen and elastin production. Dry skin on and around the eyes respond well to hydrating eye creams with ingredients like ceramides and hyaluronic acid. No matter which eye cream you use, caring for the skin on and around the eyes is critical. Apply eye cream to the eyes with your ring finger and gently tap it into the skin rather than tugging at it or applying too much pressure. 
Best Eye Care Based on Skin Type
For Normal/Combination Skin: Epionce Renewal Eye Cream
For Sensitive Skin: Colorescience Total Eye 3-in-1 SPF35 Renewal Therapy
For Dry Skin: SkinCeuticals AOX Eye Gel
For Oily Skin: Murad Vita-C Eyes Dark Circle Corrector
Add Sunscreen: Your Daily Shield  
Not a day should go by where you don't wear sunscreen. An essential skin care routine step, sunscreen is a must for protecting the skin from harmful UV rays, even when the weather doesn't look promising or you are spending time indoors since UV rays can still penetrate the skin through windows. Failing to protect the skin from the sun's damaging effects is the number one reason the skin ages prematurely. That's why daily, consistent use of sunscreen is imperative to prevent the formation of fine lines and wrinkles, discoloration, premature aging, textural changes, and even skin cancer. 
There are two types of sunscreens: chemical sunscreen and physical (mineral) sunscreens. Chemical sunscreens, which are more transparent on the skin, contain chemical ingredients that absorb UV light, whereas physical sunscreens, some of which can leave behind a white cast, rely on mineral ingredients to reflect the UV light off the skin. Some sunscreens contain chemical blockers, while others have just physical blockers, and then some formulations contain a combination of both. Sensitive skin types tend to find mineral sunscreens less irritating. 
To make the most of your sunscreen efforts, apply a nickel-sized amount of broad-spectrum sunscreen with an SPF of at least 30 (it should always be the last step in your skincare routine) to your face, neck, ears, and the backs of your hands and two tablespoons to exposed parts of your body about 30 minutes before going outside and then reapply it every two hours. And if you're skincare routine focuses heavily on brightening and evening out the skin to do away with hyperpigmentation, daily use of a broad-spectrum sunscreen is a must. Otherwise, you can consider your efforts null and void. 
Best Sunscreen Based on Skin Type
For Normal/Combination Skin: EltaMD UV Sheer Broad-Spectrum SPF50+
For Sensitive Skin: La Roche-Posay Anthelios Melt-In Milk Sunscreen SPF 60
For Dry Skin: Murad Perfecting Day Cream SPF 30
For Oily Skin: Colorescience Total Protection Face Shield Matte SPF 50
Practice Lip Care: Keep Them Soft 
One part of the face that is often overlooked is the lips. Since the lips lack oil glands like the skin elsewhere on the face and body, they can quickly become dehydrated, leaving them cracked, feeling dry and deflated, and even uncomfortable. Rather than licking your lips to rehydrate them, swiping on a layer of lip balm or lip treatment is a far better solution.  
To keep the lips healthy and stave off the effects of aging, using a moisturizing lip balm as part of a good skin care routine will help prevent dryness. But if you need more than lip balm alone, add a lip-specific exfoliating product once or twice a week. Exfoliating the lips will help speed up the skin cell turnover rate and remove dead skin to reveal fresh, plump, healthy lips. A gentle lip exfoliator can help smooth out any rough, discolored spots so that your lipstick and lip gloss apply more evenly. 
Best Lip Care Based on Skin Type
For Normal/Combination Skin: iS Clinical Youth Lip Elixir
For Sensitive Skin: First Aid Beauty Ultra Repair Lip Therapy
For Dry Skin: EltaMD UV Lip Balm Broad-Spectrum SPF36
Weekly Treatments: For an Extra Boost 
The best skin care routine consists of well-selected skincare products used daily and weekly treatments for an extra boost of hydration, nourishment or exfoliating. Some popular weekly treatments, which can also be considered booster treatments, include face masks, peels and facial massages, and at-home tools like LED light therapy tools and microcurrent devices that encourage healthy skin cell renewal, nourishment and collagen production.  
Easy-to-perform face masks continue to gain popularity simply because of their high concentration of active ingredients for an instant skin boost that addresses different skin concerns. Face masks are also available in several formats, from super hydrating sheets to ones that peel off and even thick overnight masks that pack a serious dose of moisture for drier skin and more traditional clay and mud masks that help absorb excess oil. To reap the benefits of a face mask, apply it to clean skin before doing your routine. Make sure not to overuse face masks, which can irritate the skin, and use them once or twice weekly. 
Best Treatments Based on Skin Type
For Normal/Combination Skin: Natura Bissé Stabilizing Cleansing Mask
For Sensitive Skin: REN Clean Skincare Ultra Comforting Rescue Mask
For Dry Skin: Caudalie Vinosource-Hydra Moisturizing Mask
For Oily Skin: Perricone MD Chlorophyll Detox Mask
Follow a Specific Nighttime Routine: Repair and Rejuvenate  
When it comes to your nighttime skin care routine steps, you'll want to follow everything you do during the day save for the sunscreen (it's not necessary when sleeping). Since the skin rejuvenates itself while you sleep, a nighttime skin care routine is the perfect time to focus on repairing the damage that the skin incurs during the day with specific night creams and serums, which usually contain stronger active ingredients and those that are sun sensitivity, like retinol.  
While a daytime and nighttime skin care routine complement each other, switching up a few products at night is essential. While you drift off at Dreamland, treat your skin to nourishing and nurturing ingredients and actives so that the skin can reap its benefits. After cleansing the skin and removing the day, you'll want to tone the skin and follow it up with heavier serums and moisturizers that sink into the skin. Nighttime is also ideal for using creams and serums with exfoliating and skin-stimulating ingredients, like retinol and alpha hydroxy acids, to help smooth and brighten the skin. Certain skincare ingredients should be used in an alternating fashion at night, like retinol and other exfoliating acids, to prevent irritation and sensitivity. You'll also want to dab on an eye cream before hitting the hay and spot treatment to reduce blemishes. 
It's also important to layer on a good moisturizer at night to seal in hydration to prevent moisture loss while sleeping. Nighttime-specific moisturizing creams often incorporate anti-aging ingredients to repair daytime damage. You can also wear a heavier cream to bed at night for extra hydration. 
Tips for Maintaining Your Skin Care Routine 
Once you've established a good skin care routine, you must stick with it to see results. Staying consistent and diligent about following the best skin care routine for your skin type will set you up for success. 
On average, it can take two months or more to notice the benefits of a skin care routine or new skincare products. But even though it may take time to see the effects of following a well-structured routine and following it every day, it's worth it. You'll want to be patient with your skin and give it time to adjust to new products and ingredients too, and if something feels like it's not working after ample time, feel free to tweak your routine as needed.  
How to Build a Skincare Routine Based on Age
The skin changes as it ages, and the ideal skincare routine for one age group may be less beneficial for another. While everyone's skin ages at different rates, some noticeable skin-related changes, like decreased cell turnover, less collagen production and a slowdown in hyaluronic acid production and moisture, can happen as early as your 20s and as late as your 40s. That's why it is important to focus on a skin care routine that aids in collagen production, cell turnover and hydration through products that contain retinol, peptides and hyaluronic acid. 
Your skin concerns will likely also change with age. While teenagers may be more concerned with trying to clear up acne and mattify oily skin, 30- and 40-something skin will probably focus on anti-aging efforts, smoother skin texture and brightening discoloration. Changing your skin care routine to meet the skincare needs of your skin at various stages of life is important.   
When to Consult a Dermatologist 
Skincare products can make a difference in improving skin concerns and issues. But if they persist with little to no improvement, it's time to consult a dermatologist for an accurate diagnosis and treatment protocol. Sometimes, self-diagnosing the skin can worsen conditions and exacerbate skin sensitivities. Or, you may not be treating the problem at hand, which is where a dermatologist can help evaluate your skin to ensure you are treating it appropriately.
Beyond seeing a dermatologist, routine skin treatments, like facials and chemical peels, with an esthetician can be helpful, especially when clogged pores or dryness are constant skin issues. Plus, estheticians and dermatologists can access more potent active ingredients that aren't sold over the counter, which some skin types benefit from. 
The Bottom Line 
If you want to keep your skin healthy, clear and youthful for as long as possible, following a well-devised skincare routine is a must. Taking a proactive approach to caring for your skin and devising a personalized skincare routine is step one to achieving the skin you've always wanted. Once you get the basics down, you can add in additional steps and change up your products as needed, rotating in and out certain ingredients and products depending on the time of year or what your skin benefits from at any given time.  
Consistency is key to seeing results, so stick with your skincare routine. Also, don't expect everything to work immediately or provide results overnight. Some of the best and most effective skincare products take time to work, so don't give up if you don't see results after using a product once or twice. Some products can take a few months to show that your skincare routine works. 
We all have different experiences with skincare, so share what's worked with you below. Your skincare routine and what you've gained from following it may be the answer to help with someone else's skincare issue. Follow us on Instagram to share your routine and get more tips!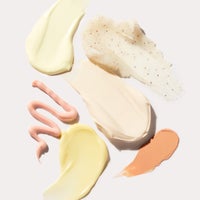 Our team of beauty experts cover everything from skincare to makeup, picking out the most effective products from the best brands and latest trends. Stay up to date on everything beauty with the SkinStore blog, and find all your essentials in one place.