The following post has been provided by Shelby Gerson, one of our customer service Estheticians. Check out our blog categories for more insight from our experts and editors at Skinstore: your digital dermatologist. 
Dr. Sheldon Pinnell, Professor of Dermatology at Duke University, created the mega research for the best absorption of topical antioxidants, collagen generation, and youthful skin healthfulness. Which is why SkinCeuticals is considered some of the highest authorities of skincare – sold by the some of the most leading physicians and a selected few authorized online retailers.
A Recap of SkinCeuticals' Best Seller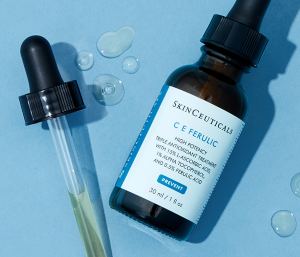 When we think of SkinCeuticals, the best-selling serum C E Ferulic comes to mind. However, there is a way to take a step further after the application of this collagen building and free radical fighting serum – by applying a top-quality hydrator for the skin.