Introducing: Dermalogica's NEW PreCleanse Balm - the cleansing balm which melts away dirty skin.
If you're someone who's always on the quest for perfect skin, SkinStore can now introduce the first step of double cleansing (one of the latest trends in skin care), with the PreCleanse step.
The balm-to-oil cleanser is classed as Dermalogica's hero product, which has a unique ability to deconstruct layers of excess sebum (oil), waterproof make-up, environmental pollutants and residual product buildup on your skin.
The Key Ingredients
Apricot Kernel Oil
Natural Biolipid Complex
Invigorating Essentials oils
Apply, work dry, emulsify.
The PreCleanse Balm Double-Side Cleansing Mitt
The PreCleanse balm also comes with a soft double-sided cleansing mitt applicator which will come in handy as you will need to add water to balm in order to transform this hydrophilic formula into a milky emulsion.
The mixture of the formula will create an action that will easily rinse debris from the skin's surface, allowing your recommended Dermalogica Cleanser to provide professional cleansing results.
Safety Of Your Skin
The Cleansing Balm is perfect for all skin types and is safe for use around the eye area. This is ideal for removing make-up.
So there you have it - the first step to the most talked about double cleansing trend, with the Dermalogica PreCleanse Balm which will provide that extra cleanse to make all the difference.
Shop Dermalogica's range of cleansers now to accompany your step one PreCleanse Balm.
Simply follow up with the Dermalogica PreCleanse then your favorite toner, serum and moisturizer for the ultimate skin care routine.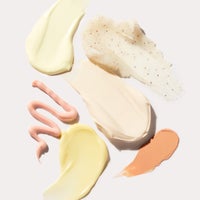 Our team of beauty experts cover everything from skincare to makeup, picking out the most effective products from the best brands and latest trends. Stay up to date on everything beauty with the SkinStore blog, and find all your essentials in one place.