If you're fairly clued up on your beauty products, you'll know that the SkinCeuticals C E Ferulic is one of the cult favorites. Everyone from beauty editors, bloggers and skin-conscious women rate this as their everyday go-to product, so we have to ask ourselves: what is so special about C E Ferulic? Is it the amazing skin-firming and brightening benefits? Don't believe us? Try it for yourself!
What is it?
Skinceuticals C E Ferulic is a revolutionary topical antioxidant combination that provides 8 times the skin's natural photo-aging protection. C E Ferulic contains ferulic acid, a new antioxidant that doubles the synergistic benefits of C E – neutralizing free radicals, building collagen, and providing improved antioxidant protection.
Think of the C E Ferulic, the potent antioxidant we sell in multiple digits, as your orange juice in the morning. It's awakening, its refreshing, it cares for your skin and provides the ultimate vitamin boost. With repeated use, it brightens and fades pigmentation, but overall, its your protection product.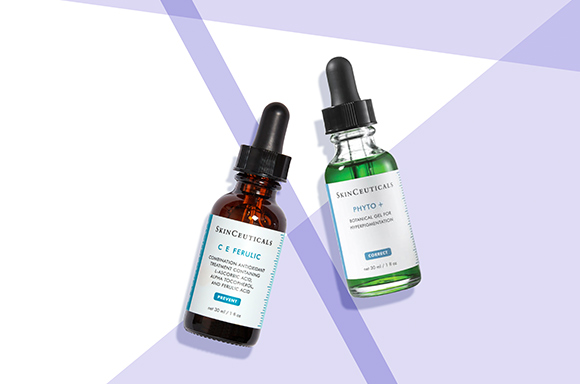 What's in it?
C E Ferulic features a synergistic antioxidant combination of 15% pure vitamin C (L-ascorbic acid), 1% vitamin E (alpha tocopherol), and 0.5% ferulic acid. Together, these work to enhance protection against free radical damage caused by exposure to environmental aggressors like solar radiation and pollution.
Why we love it
Here's a run-down of everything that C E Ferulic achieves and why it is a worldwide best-seller!
It delivers enhanced anti-aging results -better than any one antioxidant alone
Neutralizes free radical damage and protects against oxidative stress
Excellent for use in conjunction with sunscreen for ultimate protection
Repairs and improves the look and feel of photoaged or photodamaged skin
Moisturizes dry or sensitive skin, and gives life to skin with poor elasticity
Visually improves hyperpigmentation and helps prevent new discoloration
Great for use 30 days before and/or 7-10 days after invasive or non-invasive procedures
How to Use SkinCeuticals C E Ferulic for the Best Results
In the morning after cleansing and toning, apply 4-5 drops to a dry face, neck, and chest before other anti-aging skincare products. Complete your regimen with a SkinCeuticals sunscreen.