What's the deal with micellar water? If you've ever been curious about alternatives to traditional cleansers, it might just be worth your while to find out why everyone's raving about this subtle skincare sensation. While it may look just like regular water, micellar cleansing water has a different texture and properties that make it the perfect gentle cleanser.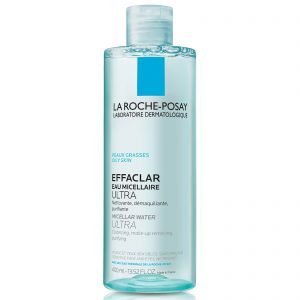 Micellar water consists of micelles, or tiny spherical molecules, suspended in purified water. Micelles work like magnets on impurities in the skin, drawing out dirt and oil without any collateral loss of moisture. That's what makes micellar water great for clearing out pores, toning skin, and supporting skin hydration. It can be used as a facial wash, moisturizer, and makeup remover — aside from heavy foundations or waterproof mascara.
Unlike hard tape water, which contains high levels of dissolved minerals that can deteriorate the skin's natural protective barrier, this water is specially formulated to be extra gentle. Micellar water is free of alcohol and harsh chemicals, making it ideal for dry and sensitive skin types. And unlike foaming cleansers, there's no fear of drying out your skin. Micellar water reduces irritation and inflammation, and it's so light that there's no need to rinse or rub it off.
So why not find out how to use this ingredient in your skincare routine? Check out our list of the 6 best micellar waters on the US market today.
Best Cleansers with Micellar Water
1. Bioderma Sebium H2O Purifying Cleansing Solution
2. Koh Gen Do Cleansing Water
3. La Roche-Posay Effaclar Micellar Water
4. Filorga Anti-Aging Micellar Cleansing Solution
5. Avène Micellar Lotion Cleanser and Make-Up Remover
6. Vichy Pureté Thermale Micellar Cleansing Water 3-in-1 One Step Cleanser and Makeup Remover
6 Best Micellar Water Cleansers