Middle Eastern beauty brand Shiffa has all the makings of your new favorite product range. Developed by medical doctor Lamees Hamdan, who later specialized in dermatology, Shiffa is many things.
In Arabic, Shiffa means "to heal" or "healing". It's, natural, organic, inspired by ideals from the East and the West and interwoven with principles of Indian Ayurveda.
The Pregnancy Oil Kim K Swears By
Dr. Hamdan's pregnancy is the genesis of Shiffa - she wanted 100% natural beauty products that didn't compromise on results. Like many pregnant women she feared stretch marks, and this inspired the Shiffa Pregnancy Body Oil - a beautiful blend of oils including mandarin orange, chamomile, evening primrose and apricot kernel. So divine is this feather-light oil that Kim Kardashian turned to it daily during her pregnancy with Saint West.
"I was obsessed with putting lots of lotion, and this pregnancy body oil on a few times a day," she wrote on her pregnancy diaries 5 months in.
Eating for two or not, this hard working oil will do wonders for your skin. The uplifting formula promotes feelings of wellbeing and a restful night's sleep as well as moisturizing and conditioning the skin - particularly on the bust, hips and stomach.
The Ethereal Hair Oils
The Shiffa Relaxing Hair Oil draws influences from ancient Arabia. It's the perfect overnight treatment, packed with strengthening grape seed oil and sweet birch bark to repair and protect hair, and lavender and chamomile to soothe dry irritated scalps. Meanwhile, a beautiful infusion of lemon balm and bergamot uplift the senses to help relieve stress.
Shiffa's Invigorating Hair Oil is inspired by the luxuries of an Indian head massage. It will nourish, fortify and revitalize both the hair and scalp without leaving that annoying greasy residue so many treatments, oil and serums do. Peppermint, rosemary and nettle leaf comfort itchy scalps while sweet almond, jojoba and rosehip condition and moisturize hair strands from root to tip. A dash of grape seed oil repairs and protects against enrvionmental aggressors so that you too, can achieve that enchanting hair Middle Eastern beauties always seem to have.
Shop the full Shiffa range now.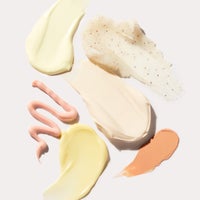 Our team of beauty experts cover everything from skincare to makeup, picking out the most effective products from the best brands and latest trends. Stay up to date on everything beauty with the SkinStore blog, and find all your essentials in one place.