Whether your Dad's clean shaven or sporting stubble; our Father's day gift guide for the well-groomed Dad will help you find the perfect gift to get him preened to perfection. With a huge collection of creams, gels, oils and tools, we've got the ideal solution to your gift-giving woes.
From their Pre-Shave Oil to their After-Shave Lotion; The Art of Shaving has an advanced collection of high-performance male grooming essentials. The Art of Shaving's collection provides everything you could ever need to achieve the perfect shave; using high quality, natural ingredients and essential oils, this will add a touch of luxury to any Father's grooming regime.
Gentlemen's Tonic is the epitome of luxury. Their exclusive line of high-quality grooming products made with all-natural ingredients will allow your Dad to be groomed to perfection while adding a touch of indulgence to his daily grooming routine.
Not only is the Gentlemen's Tonic Savile Row Razor aesthetically pleasing, making a gorgeous addition to any bathroom; it also offers a super-close, comfortable shave. This razor is perfect for any man with a penchant for luxury.
If you're looking for a Father's day gift for a Dad who deserves the world and more; the Gentlemen's Tonic Ultimate Gift Set should be first on your list. Comprised of a Pre-Shave Oil, Traditional Shave Cream, Soothing Aftershave Balm, Razor, Razor stand and Super-Fine Badger Brush- this is the ultimate Father's day gift for any Dad who deserves a little bit of luxury in his life.
Mr Natty is an eccentric British brand comprised of an eclectic collection of innovative, no-fuss men's grooming products that provide real results.
The Mr Natty Hirsute Rogue Care Package combines four essential grooming products presented in an understated brown branded box, making it the perfect Father's day gift for the no-fuss Dad. The set contains the Famous Beard Elixir to condition and moisturize facial fuzz, the Shipwreck Soap, Face Forest Soap Beard Shampoo to hydrate the beard and sooth the skin underneath and the Moustache Twizzle Wax to help tame that facial hair- this is the perfect gift for a man who prefers to sport a little more fuzz.
The Mr Natty Emergency Flair Shave Kit is the perfect kit for getting rid of the dreaded 5 o'clock shadow. The kit is comprised of Shave oil, Save Ya Own Skin Moisturizer and Razor to ensure your Dad will never be caught in a hair-mergency again.
Molton Brown's luxurious collection of shaving products makes a gorgeous addition to any bathroom cabinet. Their line of shaving products will help to achieve the perfect shave; no matter what your Dad's desired results are.
Molton Brown's Razor-Glide Shaving gel with African whitewood extracts combats excess shine while prepping the skin for a close, comfortable shave. The lightweight gel boasts a luxurious blend of mandarin, jasmine, musk and vanilla for a refreshing shaving experience.
The Post shave recovery balm is perfect for calming and smoothing the skin post-shave as well as rebuilding the skin's moisture barrier for a smooth finish. The blend of barley extract, along with the tempting sandalwood and musk fragrance will have any man looking and smelling gorgeous.
Discover Skinstore's extensive collection of men's shaving products for even more Father's Day inspiration.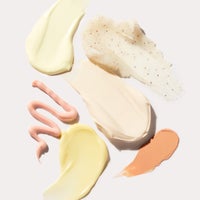 Our team of beauty experts cover everything from skincare to makeup, picking out the most effective products from the best brands and latest trends. Stay up to date on everything beauty with the SkinStore blog, and find all your essentials in one place.