We can't help but lust over luxury haircare products, especially those inspired from skincare science. Natural ingredients, high-driven performance, sleek professional packaging...what more could we want?
Our recent haircare brand obsession falls with Alterna. This  professional haircare brand has an extensive collection of products which pamper the locks using only the finest of unique ingredients. Focusing on using pure properties and backed by science (we love a bit of scientific knowledge!), Alterna's products cater for all hair types. You may even be familiar with Alterna from spying the super stylish and naturally beautiful Katie Holmes front their campaigns, stepping on board as the face of the brand.
One of their most impressive ranges we're currently shouting about is their Caviar Collection, catering specifically for more targeted concerns. Hair which is limp and lifeless gets a boost with the BodyBuilding Volumizingrange, whereas dull, lack-luster hair is revitalized with their nourishing hair oils and hair mists. For the blondies out there (like myself) they have also produced a refreshing Brightening Blonde range, made up of a sulfate-free cleanser and conditioner to clean up all blonde shades whilst eliminating brassiness and protecting color fade.
However, we don't know about you but us ladies at SkinStore are recently stressing about dry, broken, weakened hair- especially on the back of the holiday season. Recent heat styling and going a little lighter for the Summer has played havoc, and we desperately need to put back in some much needed TLC!
Our current hair concerns (parched, damaged locks FYI) have left us in need of an effective repairing and strengthening range, bringing us straight to the Caviar Repair RX products. First of all, we we were blown away by the statistics we came across when looking into this range:
REAL LIFE RESULTS
93% of women who tried the Repair RX products reported that they gave them noticeably softer hair.
87% said their hair looked and felt less damaged.
After just one use, 9 out of 10 women saw improved: strength, frizz control, softness & shine.
The product range is made up of the Caviar Repairx Instant Recovery Shampoo, Caviar Repairx Instant Recovery Conditioner, Alterna Caviar Repairx Micro-Bead Fill & Fix Treatment Masque and the Caviar Repairx Re-Texturizing Protein Cream. When used together, these products work to deeply repair the hair with their formulations of Strand-Building Proteins, targeting damage at a microscopic level. Reconstructing each individual hair strand from the inside out, hair starts to rebuild with more strength, shine and resistance.
Now that we know our damaged, broken hair has a super repairing range to strengthen and moisturize, it's time for us to learn a few styling tricks! Alterna have put together some easy-to-follow hair styling tutorials, using a couple of key products from the Caviar Collection. The first one shows you step-by-step how to style your hair for a night out, keeping it big, bouncy and volumized. In the video, Alterna are using their Alterna Caviar Miracle Multiplying Volume Hair Mist, which plumps up the hair, creating lots of movement and texture:
If it's a stylish up-do you wish to create, then why not check out their hair tutorial based on the Textured Ponytail? Again, this step-by-step video talks through the simple method to create that lifted, tousled ponytail, using only the Caviar Perfect Texture Spray and Caviar CC Cream!
As well as our favorite Caviar Collection, Alterna also retail a smoothing Bamboo Collection, and a Ten Perfect Collection, infusing 10 most effective products from around the world. Take a look here for more luscious haircare treats!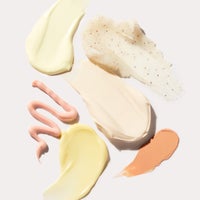 Our team of beauty experts cover everything from skincare to makeup, picking out the most effective products from the best brands and latest trends. Stay up to date on everything beauty with the SkinStore blog, and find all your essentials in one place.