The Elasticizer is the holy grail of the Philip Kingsley product family, with a function unlike any other haircare product and quite the backstory.
British-born Philip Kingsley started out young in the industry, just 14 when he joined his Uncle's hairdressing salon as an apprentice. He is celebrated for many things, for coining the term "bad hair day", for opening a world-renowned trichology clinic in London, for publishing four books on haircare and for recognizing the profound link between hair and sexuality. His A-list clientele included Jane Fonda, Mick Jagger, Ivana Trump, Sienna Miller, Jerry Hall, British royalty and, most relevantly for this tale, Breakfast at Tiffany's starlet Audrey Hepburn.
Meeting Mrs Dotti
Over 40 years ago, Mr Kingsley was on his way to meet Mrs Dotti, who was pencilled into his appointment book. When he saw her seated in his office, he said to himself "Gosh she really looks like Audrey Hepburn." He asked her how her name was spelt, followed by "I hope you don't mind me saying, but you really look like Audrey Hepburn." Mrs Dotti almost fell off the chair laughing, explaining that she was Audrey, but always took appointments under her married name.
Audrey's hair had become damaged as a result of filming the 1976 hit Robin and Marian in London with Sean Connery. She was unhappy about the way her hair looked in some of the shots. It would become very tedious on a film set, where actors and actresses had to look exactly the same in Shot 2 as in Shot 1, and in-between those shots the crew would do everything to Audrey's hair, from backcombing to over-spraying it. Her hair didn't behave the way she wished, and she hated the conditioner they used on set as it made her hair look flat - she wanted it full of body.
A New Era in Haircare
So the innate trichologist went away and created the world's first pre-shampoo masque. When a conditioner is applied post-shampooing, it can make the hair limp and greasy. This pre-shampoo conditioner, didn't propose that problem and Audrey, the sweetheart of Hollywoods' Golden Age, loved it.
According to Mr Kinsgley, hair strands should stretch 30% of their length before they break: hair should have elasticity. If it doesn't stretch as much, it will break more easily. His pre-shampoo treatment improves the stretchability of hair, which is why in 1980, he renamed Audrey's favorite product the Elasticizer.
She loved the Elasticizer so much that Audrey would order pots of it to be sent to Switzerland. She soon became friends with the trichologist and would even bring gifts to the girls at the salon - comfortable shoes so their feet wouldn't hurt from standing all day. Because Audrey was so enamoured with the Elasticizer, Philip Kingsley brought it out as a permanent product and then added it to his retail range.
The original formula meant the Elasticizer had to be diluted so Audrey would mix it herself. Today award-winning Elasticizer is a cult favorite that can be instantly used on any hair texture, to strengthen it and give it life.
How to use Elasticizer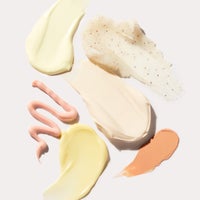 Our team of beauty experts cover everything from skincare to makeup, picking out the most effective products from the best brands and latest trends. Stay up to date on everything beauty with the SkinStore blog, and find all your essentials in one place.