With over 25,000 skincare products on the market and social media creating a skincare-obsessed generation, it's easy to get overwhelmed when choosing the right skincare. While some products are a choice rather than a necessity, what happens when you skip the essential skincare steps?
At SkinStore we've asked AI to predict the impact of not using dermatologist advised products. 
Using specific prompts, we asked an AI generator to create imagery predicting the impact of not using the following skincare products,
SPF
Cleansers
Retinol
Vitamin C
We've then worked with skincare experts to comment on the reality of these images and just how accurate they are to determine the skincare steps we should never skip.
What Would Skin Look Like Without Daily SPF Use for 30 Years?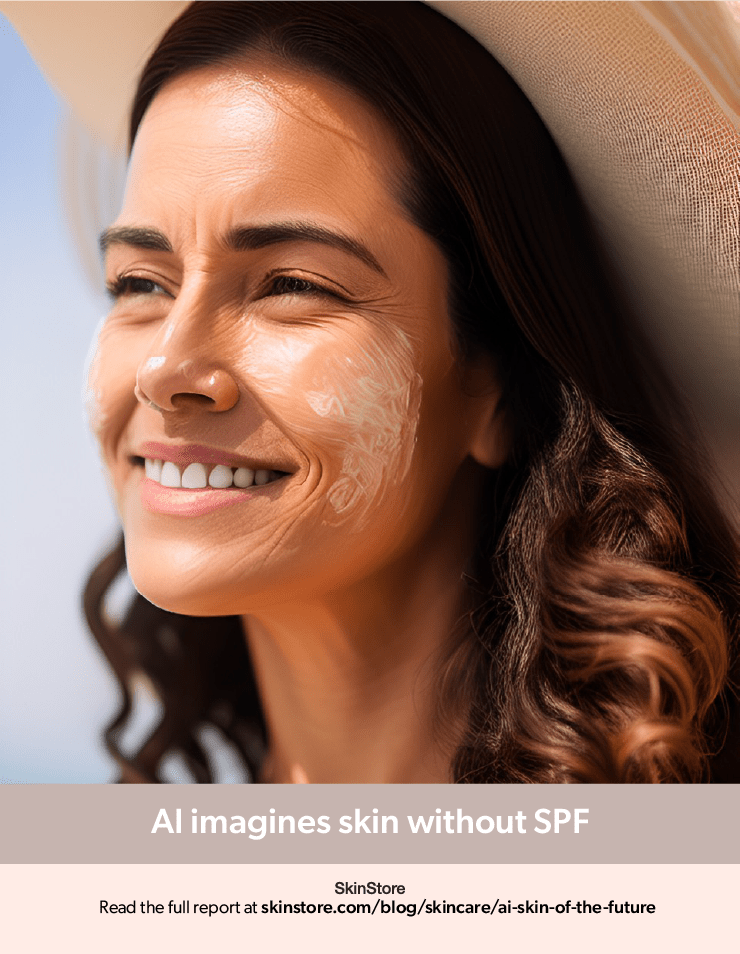 Commonly associated with warmer climates and vacations, SPF is often underestimated in terms of its importance within our day-to-day skincare routines, however, it is a crucial step that should never be overlooked. UV rays are present all year round, even on colder, cloudy days.
With 28% of Americans saying they never apply SPF to their face, we asked AI what skin looked like without daily SPF use for 30 years. It predicted wrinkles and fine lines around the forehead and eyes, which is the most common indication of sun damage and lack of SPF use. Sun damage wrinkles are caused by the penetration of UV rays, causing the elastin fibers in the face to break down and create fine lines and premature aging.
AI has also imagined dry, flaky skin to form around the cheeks causing an uneven skin tone. This is the most immediate effect of sun damage and the lack of SPF use, as UV rays damage the outer layer of your facial skin known as the stratum corneum. This will cause your skin to become dehydrated and damaged, which is correctly shown in AI's prediction of no SPF use.
When should I apply SPF?
To avoid the damage imagined by AI, When you are exposed to strong UV rays, you should apply SPF every two hours. This will keep your skin cells protected and limit penetration from UV rays.
Getting into a habit of applying sunscreen daily as part of your skincare routine is a great way to stay on top of your SPF use and keep your skin healthy and protected.
SkinStore recommends shopping for SPFs that offer both UVA/UVB protection. UVA has a longer wavelength and is associated with skin aging. UVB has a shorter wavelength and causes skin burning.
SkinStore's tip: Use weather apps to monitor UV rays in your area, between 0-2 means sun damage is minimal, and applying SPF once in the morning will be fine.
However any UV index above three means you must re-apply sunscreen every 2 hours to protect yourself from the sun.
SkinStore's pick: EltaMD UV Clear Broad-Spectrum SPF46 $41